When we think about a minimalist wardrobe, we probably tend to stay on black, white, neutral colored clothing and zero fun. But when we think about the perfect minimalist wardrobe for the man of 2021, the options are broader. Different textures, shapes, strategic touches of color and the right accessories will be the key to take your wardrobe to a new level of style.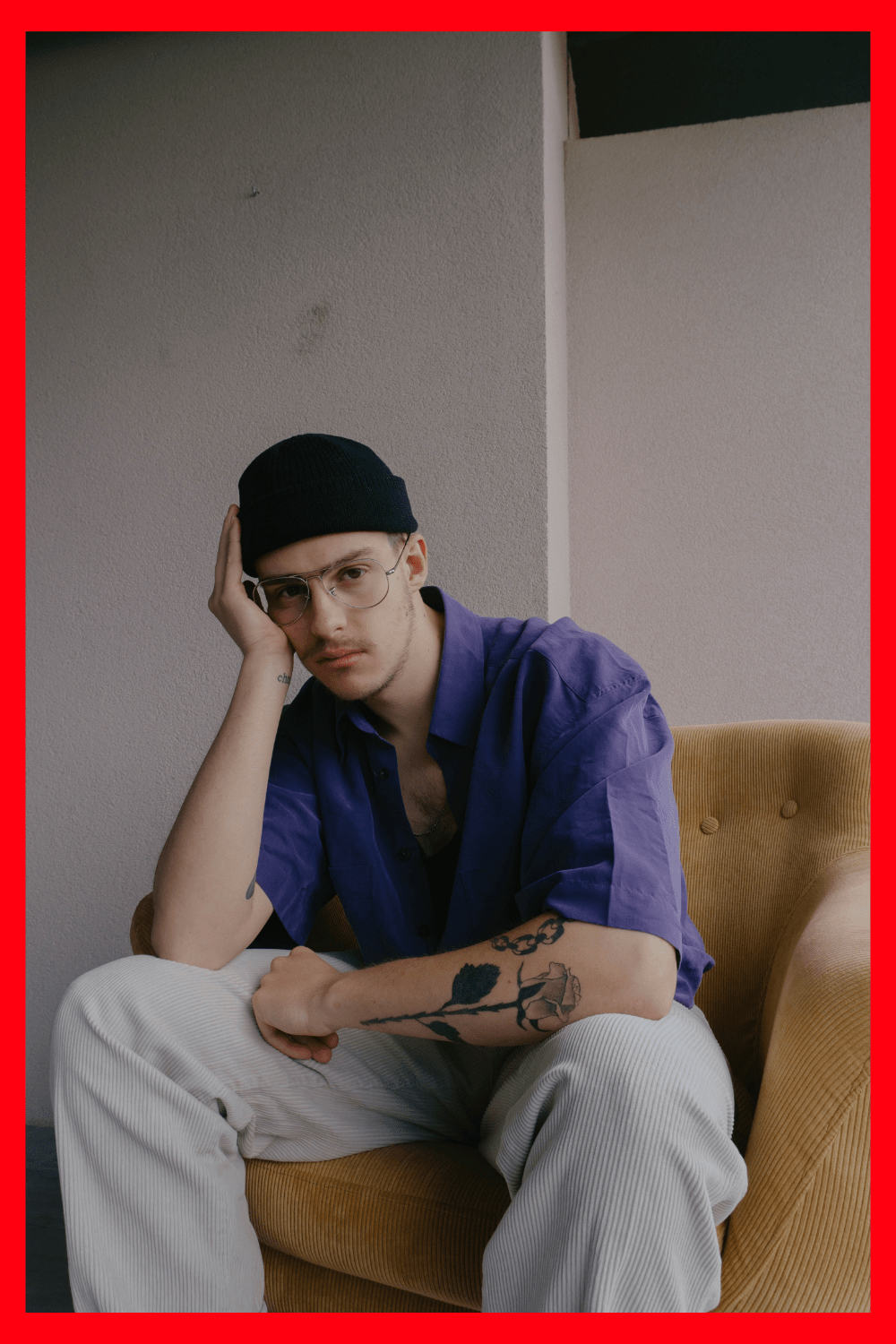 We will first need to get pieces that are clean, timeless and versatile at the same time; that will be the base of our wardrobe. Then we will need pieces that are clean, versatile and a little more interesting to take our wardrobe from simple, to a wardrobe that is minimalist and stylish.
Here I share some looks and key points that you can use as inspiration to build your own minimalist wardrobe.
Enough talking, let's get to the looks.
1. BLACK AND WHITE WILL ALWAYS WORK FOR A MINIMALIST WARDROBE
As I always say, a white t-shirt will never fail you. Another thing that won't fail you is a black and white ensemble, specially when styling a minimalist look. The same way as in the one we see in the pictures, the key to take a simple white t-shirt, black straight leg jeans -or chinos- and black high top converses look to another level is the right accessory. In this case, the red trendy beanie hat gives the look the pop of color it needs to make it a real look. Another complement you can use to make a look like this more interesting -depending on the season and weather in your area- is a shacket in a color like blue or even purple.
2. DON'T BE AFRAID OF COLOR
We also need to know that adding pops of color isn't the only way to use color in this looks. You can actually wear sweaters, shirts and pants in interesting colors, like purples for the spring and oranges for the fall. In cases like these, the rest of the pieces and the timeless shapes will keep your look minimalist and timeless enough, no matter the trendy colors and pieces you wear. Remember that everything is about balance.
3. WE NEED DIFFERENT TEXTURES IN OUR MINIMALIST WARDROBE
When we are styling a minimalist look or interested on building a wardrobe for this aesthetic, we may feel limited in terms of color. As I said above, we can use it, but it is almost like not too much of it. If that is the case, another resource we can play with is texture. For example, fabrics like jersey, denim or knits are easy to find in minimalist ensembles. But what about more interesting textures like corduroys or leather? Interesting textures like those can give a monochromatic look the twist to make the look fashion. I'll tell you that the key when using this types of fabrics is to mix different textures in looks that don't have a lot of color variety.
4. CROP OVERSIZED TROUSERS ARE YOUR FRIENDS
It's obvious that crop trousers are not the best fit for everybody. However, I think that if well fitted, anyone can pull them off. They are not really the most timeless piece of menswear, but it is one of the most stylish and accessible interpretations of that concept. This type of pants to me are classic like nothing else in the closet of a young man from this era, and at the same time they are pretty current. They are versatile and can be really elegant if styled well. However, I have to say that we need to stop wearing this type of pants in dapper looks with no socks. They are great, yes; but today, mostly in streetwear and more casual ensembles.
5. MIXING NEUTRAL COLORS IS A GREAT IDEA
A neutral palette is perfect for a minimalist look. Beautiful colors like beige, taupe and ivory are easy to pull off, easy to style, and always give you a simple elegance and neatness that is really appreciated in a minimalist outfit. This type of color is also pretty versatile and looks good on everybody. The key here is to mix them in one same ensemble. When you style a neutral look, play with different tones, shapes and textures, but keep it neutral. The fun part is that if you stay on the same color palette, you could even add prints and plaids to an ensemble and still keep it minimalist. You only need to find the right print and the right tones.
---
In conclusion, the minimalist aesthetic is an easy way to always look neat and elegant in a simple way. This aesthetic is also pretty current, versatile and accessible, works of any occasion and if styled well it looks great on everybody. When building your minimalist wardrobe, pick simple black, white and neutral pieces to build a good base. And then pick some interesting colored pieces to take the looks to a new level of style and make them more current according to the season. Always edit the looks you put together, understand what you are doing with it and keep it balanced.
And now, do you like this type of aesthetic?
XO.
Related links: