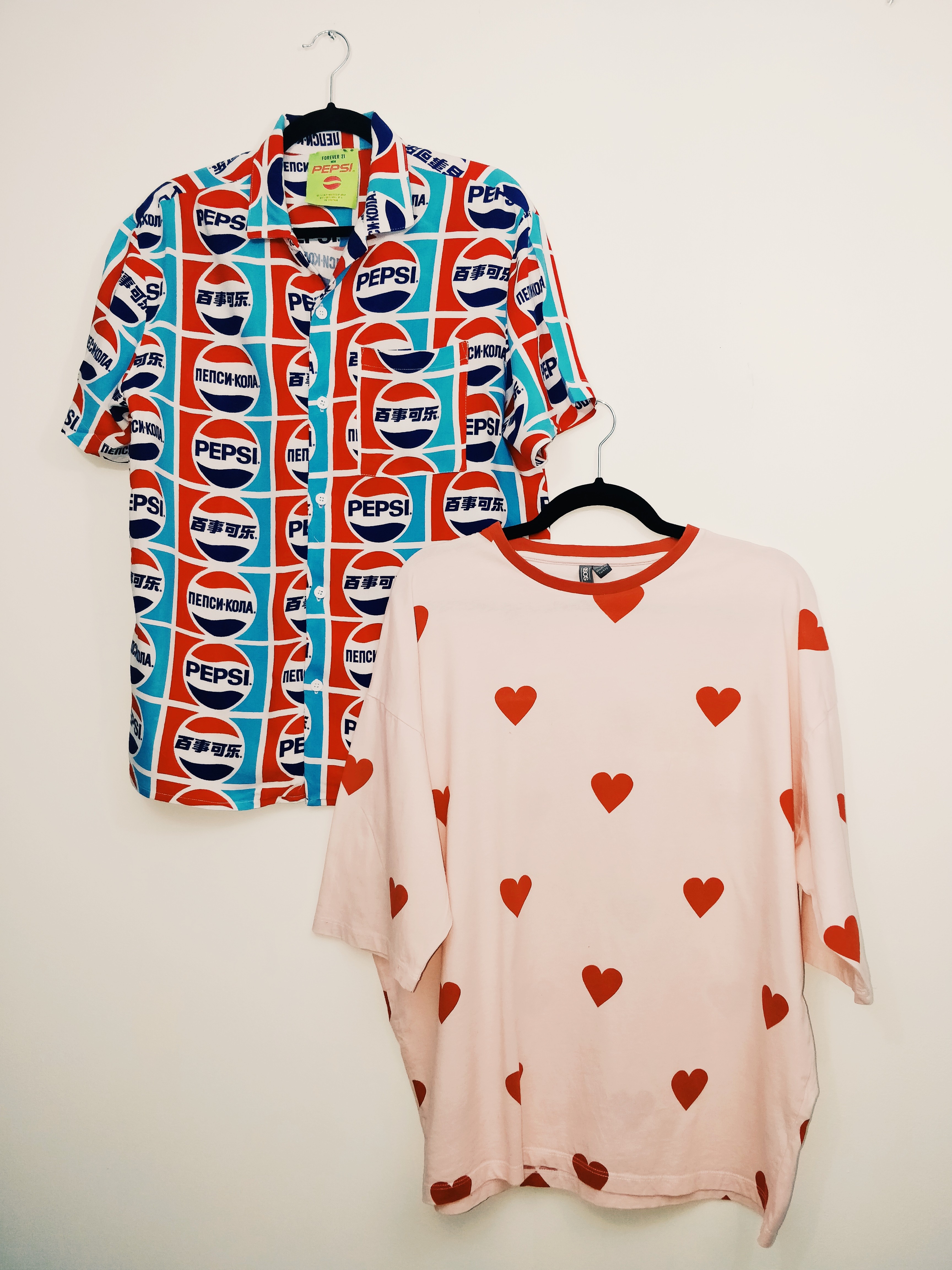 POST-SOVIET -not only as an aesthetic- is a term that can be hurtful for several people because it represents a real time period that is much more than a fashion hype, it is an era that for good or for bad, is a part of their life. However, this is not a historical or political article. And I'm not trying to discuss how many people in Georgia or Russia actually dressed like this in the late 80s and early 90s, or if this were fashion ensembles worn only in the world of electronic music, either. So let's go direct into the fashion.
Since a few years ago the revolutionary work of designers like Demna Gvasalia -Vetements, Balenciaga-, Gosha Rubchinskiy -Gosha Rubchinskiy, Paccbet- and many other designers from Eastern European countries has been categorized by the industry of fashion as the Post-Soviet Aesthetic. Because as we know, the industry always needs to romanticize everything. This designers were born on a time and place which was not a part of the flow of fashion and dressing was a thing of necessity, without caring if the piece of clothing fits you well, neither if the outfit makes any sense or expresses any mood. Something that today we can see reflected in the styling of collections of brands like Vetements. Today however, this type of styling is telling the story of those days.
When we are trying to achieve a "Post-Soviet Aesthetic" look we need to keep something in mind:
It is all about the styling and not about the pieces of clothing.
The pieces of clothing are in fact, mostly basics and pretty simple, like the striped and gingham shirts your father used to wear to go to work, and also other 90s-like pieces of clothing, sometimes a bit less simple and with some pops of color. The key is to put this simple pieces together in a way that tell something.
Today however, my goal is to show you how we can all dress with the vibe of brands like Vetements and Paccbet, with far more accessible brands of clothing, in the other side of the world and no matter your age. If you feel it, wear it. My challenge today is to pick 5 pieces of clothing from my closet and style a couple of Post-Soviet aesthetic inspired looks without having to break my finances at Balenciaga, and not even needing to go thrifting.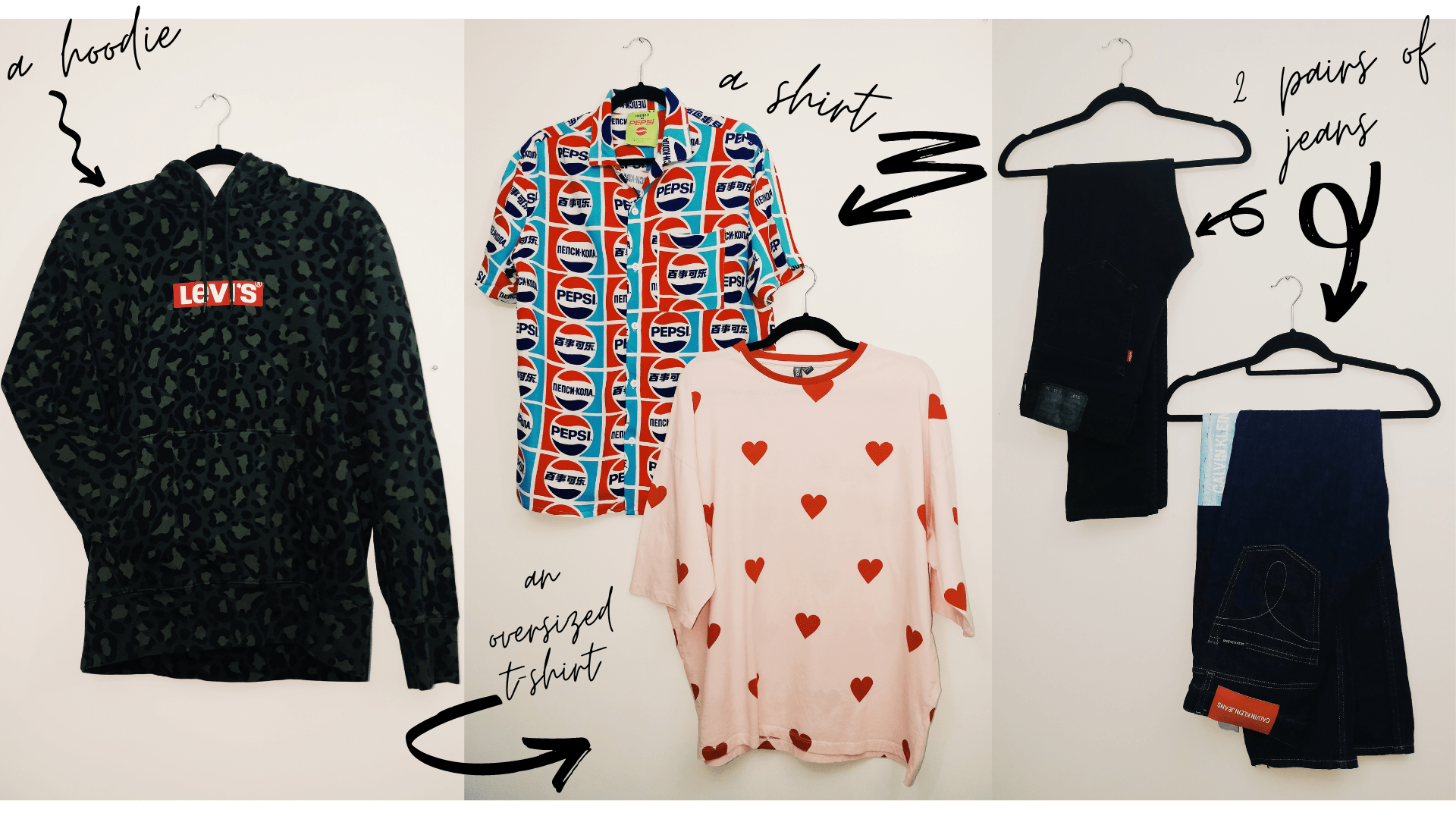 The Clothes
First, you need to pick the clothes. Here is what I picked:
A hoodie is a great piece to use as a Post-Soviet fashion essential. You can put in under or over any shirt, t-shirt or jacket to achieve this aesthetic. Tucked or not, you decide. But remember it should not make too much sense with the rest of the outfit. I picked this animal print one by Levi's.
A shirt is needed to achieve this aesthetic. The best options, as I said before, are striped or even gingham shirts. If they are oversized on you, even better. Long or short sleeves? both work. In my case I picked this one full of international soda logos -In reminiscence of 90s queen, Cindy Crawford. The use of logos is a classic in collections of designer Demna Gvasalia. A great option too.
For the third piece I picked this oversized t-shirt by ASOS with a print of hearts. Because what make the less sense next to soda logos and animal print? hearts. The key here is: oversized and boxy. This is the only way a simple t-shirt can be added to this aesthetic.
The first pair of pants are this 501 black Levi's. This is a type of pant that goes well with almost any aesthetic. Of course, baggy jeans would work even better, but everything depends on your P.O.V., taste and feeling.
The second pair are this ones from Calvin Klein. The key that make them work is the patches. If you don't have any pants like this, a good idea is to DIY a pair with some iron-on patches -maybe of logos of popular brands from the 90s.
If you need more ideas of clothing that could work for this looks, check this list of menswear essentials.
Styling a "Post-Soviet Aesthetic" inspired outfit
After you pick the clothes, you need to put them together as outfits. And Rule #1 one is that there's almost no rule.
Check some pictures of Post-Soviet Aesthetic looks and start playing with your basic pieces of clothes. Here you have a selection of Pinterest boards that can help you visualize this aesthetic:
It may be easy to say: put anything over anything, however you want. There's no rule. However, this does not mean that you can not express something with this type of outfit. In fact, at the beginning of his popularity in the industry of fashion, designer Demna Gvasalia claimed that his approach to fashion is all about the individual garment and not using fashion in order to sell a lifestyle. However, he has done -maybe unintentionally- quite the opposite. He has used fashion, or better yet, he has used styling, the attitude and performance of the models and the vibe of his fashion shows as a vehicle to express a social commentary or even tell stories about his home country, Georgia.
The question is: Do the hypebeasts care about this story Demna is telling?
Or even a better question: Do the brands care about what the hypebeasts pay or not pay attention to? If they create the hype and buy, who cares?
Hypebeast: A kid that collect clothing, shoes, and accessories for the sole purpose of impressing others -From Urban Dictionary.
The most important fact about Demna's work is that even though he is not the first designer to tell a story or give commentary about history and society, he is one of the only ones to do it in the world of Prêt-à-porter (Ready-to-wear) and not in Haute-Couture where everything is expression.
The key here may be to give a message and to say something, but without making it obvious. You want people to think about your outfit, when you didn't even try that hard to put it together and you didn't spend any money. And also, when playing with the clothes, do not forget to play on the edge of the absurd.
What we do is nothing new, it's just things that people want to wear.

Demna Gvasalia to BOF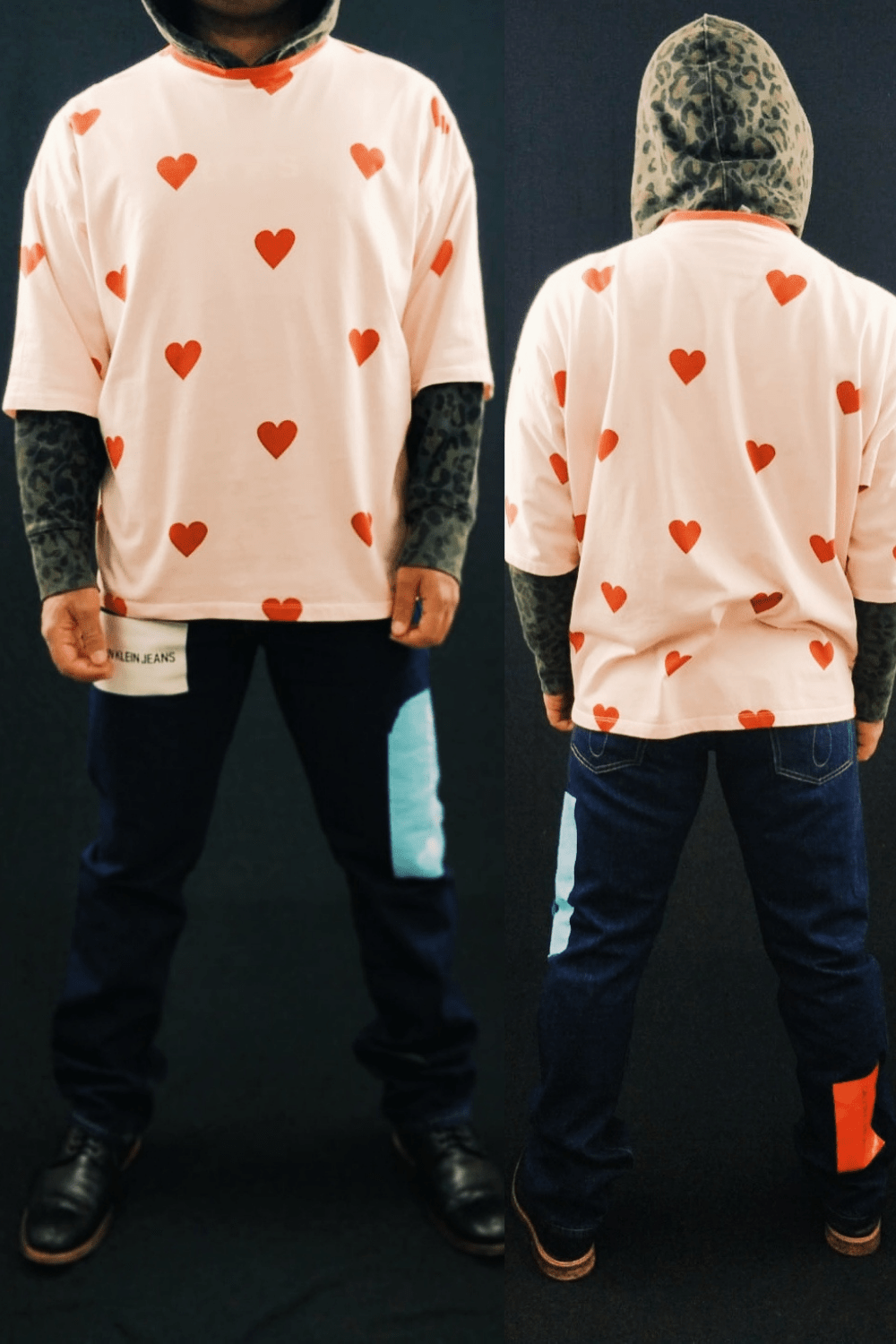 Post-Soviet Aesthetic Look #1
When you check these collections you find that something common is to put an oversized t-shirt over a hoodie or a crewneck and not the opposite as you would more commonly do. And that is basically what I did here.
Hearts and this graphic animal print together do not tell any obvious story. Perfect then.
The jeans with patches complete the look. Pants with any type of industrial factory reminiscence are great for this aesthetic. However in this times, distressed pants don't work for this or for any other aesthetic in my opinion.
For the shoes there is no rule. I picked this boots that also give me a reminiscence to grey factory days in the 90s. However, 90s chunky sneakers or trainers could work great too. If you need more ideas of shoes that could work for this looks, check this list of essentials shoes for men.
A great tip I can give you is: Don't try or plan this looks too much. Put every piece over the other and go for it.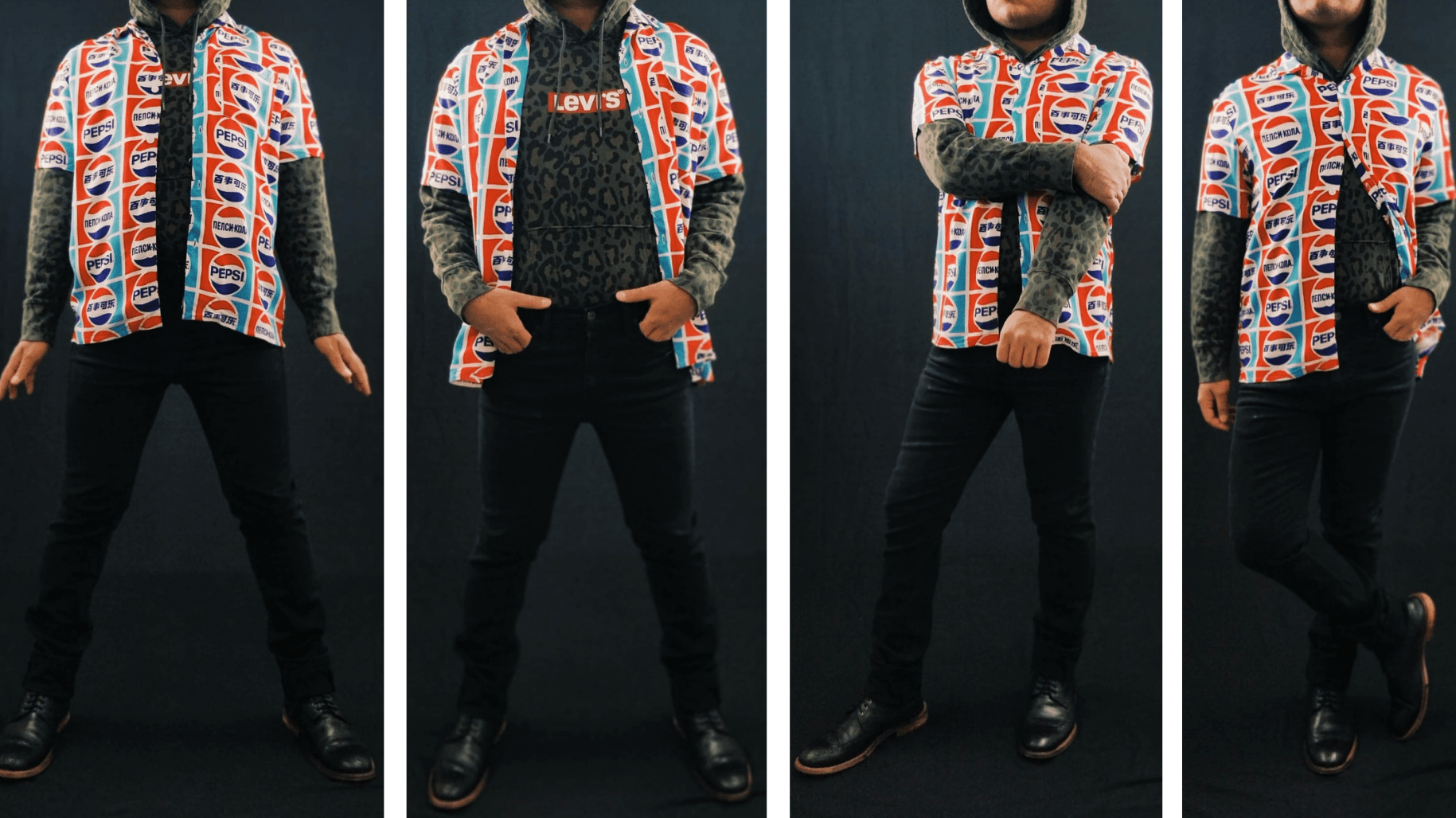 Post-Soviet Aesthetic look #2
For the second look I wore this Forever 21 shirt. What can I say? yes, I don't support fast-fashion anymore. But I found this on my closet and to be honest, logos are pretty Demna Gvasalia, Pepsi is pretty nineties and the brand name in different languages is a pretty international thing. All facts that together make this shirt perfect for this type of look.
I wore the same base, the animal print Levi's hoodie -which I love- and the same boots. But for the pants I went with something more classic this time, the black 501s by Levi's.
In general I can say this. I wore a lot of Levi's for this looks, a brand that you would not relate easily to this aesthetic and to my opinion: Challenge completed. Doesn't that tell you something?
---
In conclusion, I have to say that as I understand everything that happened before, during and after the Cold War forced people in some countries of Europe to be creative with fashion. They didn't do it for style, but for necessity. However, this way of playing with second hand sport team uniforms, band t-shirts, striped shirts, tracksuits and clothes that in general didn't fit them or had any quality; and the fact that in countries like Georgia almost everyone had to learn how to sew, created this new generation of Eastern Europe designers that unintentionally are making a revolution in the world of fashion today.
Is it affordable? not at all.
High prices are the reason of such a hype for basics with words that most of the times we don't even understand, even more than nostalgia. But we all can go into our closets and pretty easily put together this type of outfits, that is my point.
And now, what do you think about this aesthetic?
---
Related Link:
Another look you can get on a budget.