If there's one brand that I have my eye on on 2021 for men's style, that is Casablanca.
Charaf Tajer, its optimist designer, has not only been able to catch the eye of fashionistas, bloggers, magazines and critics. But calling the Spring/Summer 2021 collection "After the Rain Comes the Rainbow," he has also made clear -again- that Casablanca is ready to dress us during and after this mess of a time finally goes away.
What is the catch? This brand is not affordable for most of us, especially in the pandemic era.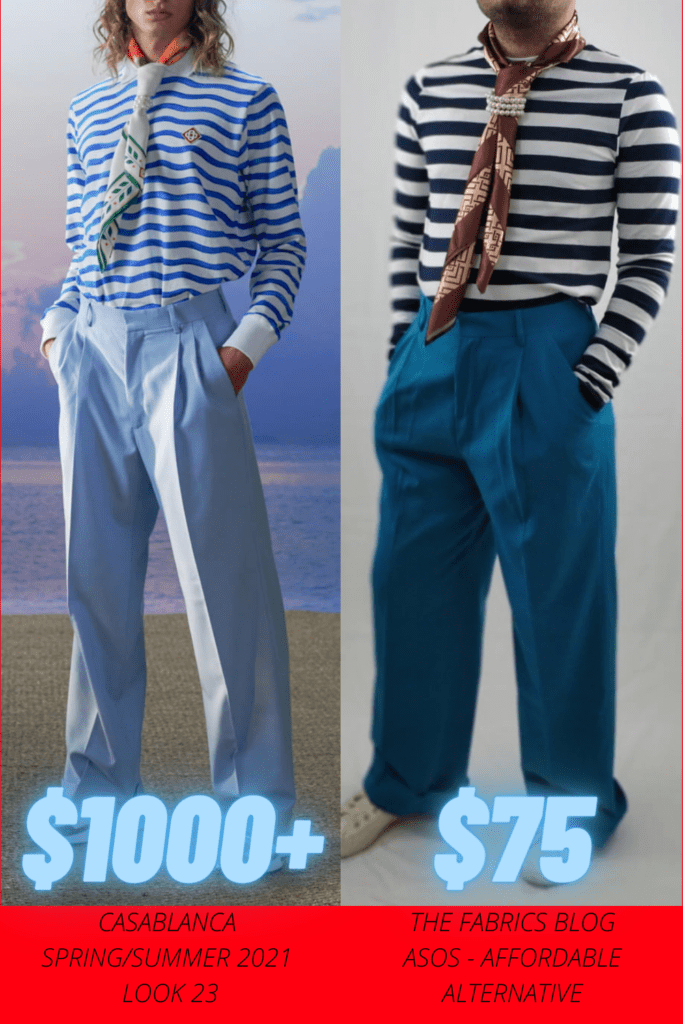 This collection talks clearly about Tajer's principal muse during its conception: Hawaii. However, it has a small chapter that I actually enjoyed the most: Nautical. And look 23 is my definite favorite.
If we describe the look, it is basically a long sleeve polo in white/blue stripes, pastel blue pleated pants -that I am obsessed with- and an off white/green silk scarf tied as a tie with a pearl necklace around the knot. If we try to purchase it, we are for sure talking of a look of over $1000, so we need an alternative.
Let's do this together.
One of the brands I prefer to use when I am trying to recreate a look from the runway is definitely ASOS. It is not only affordable, but this brand is not afraid of fashion and trends. Yes, the quality is away from the quality of the Casablanca pieces. But fast-fashion is cheap for a reason -or several ones.
The challenge is to get the look for under $100, here we go.
Men's style affordable alternative to Casablanca Spring/Summer 2021 look 23. The Nautical look.
I have to be honest. It was not too difficult.
First I needed the perfect pants. Blue, wide leg and pleated; ASOS has them. I have to say it, the color is darker and the shape is not exact -the waist is higher too-, but they are pretty close and work well. Check them here. I ordered this size: W30in L32in.
Then I needed the top. I did not find a polo like the Casablanca one, but I found a long sleeve t-shirt with the same stripes -a darker blue though- that works well. I figured that with the scarf on the neck it was not going to be too obvious if you are wearing a polo or not. Check it here. I ordered and S, but if you want to be more exact with the look try to go with a bigger size than the one that fits you the best.
And then the scarf. I did not find the exact color that I needed, but I did not care and got this purple/golden-ish one from the women's section. It was more important for me to get the biggest one so I can tie it as a tie. The material is not great at all -this is not silk-, but works. Check it here.

Men's style challenge: Completed!
In total, with discounts, taxes and free delivery, I paid a total of $75.22. I have to say that I did not buy shoes for this outfit and styled it with my own old as the universe white converses. And I also got some cheap pearls and copper wire from Joann's that were about $5 in total. But I consider this challenge: COMPLETED and in a successful way.
My favorite part of my version of this Casablanca outfit: The pants -again, in 2021 I am obsessed with pleated pants.
Now we need to put the outfit together.
Wear the t-shirt or polo inside of the pants, wear some chunky sneakers or even converses. And then tie the scarf, here is how:
HOW TO TIE A SCARF AS A TIE, THE CASABLANCA SPRING/SUMMER 2021 WAY.
Fold the scarf as a triangle and then roll it as in the video above. You will end up with a roll that will act as your tie.
Tie a tie knot -around your neck- and get a pearl choker necklace. If you already have one, use that one. If not make a simple one. I made one with some cheap pearls from Joann's.
Roll the choker around the tie. Under the knot. Use a pin on the back if needed. Try to do this in a way in which you get exactly three lines of pearls.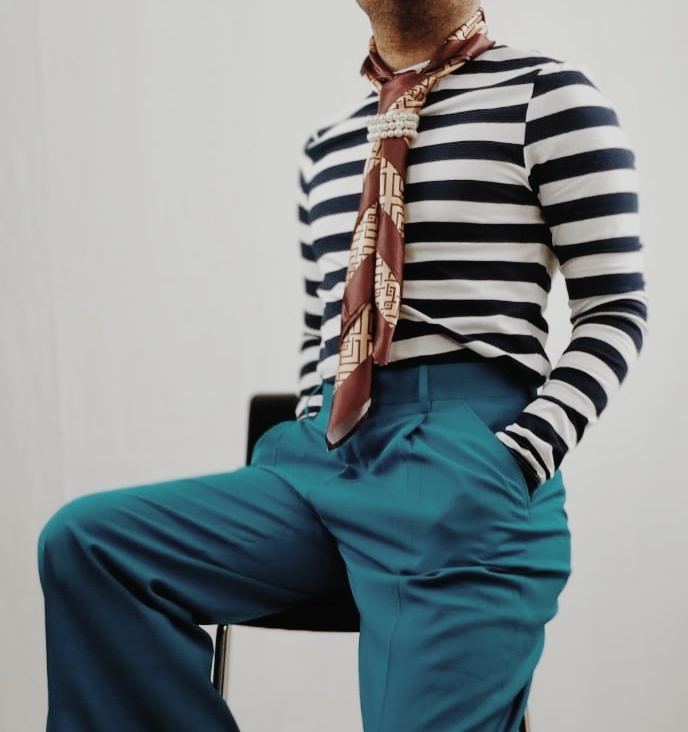 And we are done with the look!
Where can you go wearing this? Yes, obviously to the pier. But also think out of the box: wear a mask and go to the movies, to a spring or summer brunch, to visit your parents, to work or to anywhere! Enjoy fashion and do not be scared. For men's style in 2021 the sky is the limit, and even more when you are wearing its colors.
XO.
Note: This is not a sponsored post.
Extra content: Try On Haul.
Related Link:
Another look you can get on a budget.