If there's one thing I have been interested on lately is a more ethical way to look good and thrifting vintage clothing seams to be the best way to go for me. I need to say something first, though. This post and this blog is not a place where you will find -at least, at this point- a super knowledgeable speech about thrifting and ethical living. I know about the controversy some content creators who have been thrifting constantly for their social media content have been going trough. But I am nowhere close to a point where I can give an opinion.
In this post, I am only sharing my first thrifting experience, ever. And what I learned from it.
My experience
Since I moved to this place, I've been watching the local Goodwill store and I would always say: I want to go. Finally, I did and I'm happy about it. I didn't know what to expect. Because I am living a city 40 minutes away from Chicago, a city smaller than that one, I had my doubts. I was wondering if that store would have anything good at all.
I was seeing two cases possible. First, there's nothing good because everything good stays at Chicago. Or second, there's better stuff than in Chicago thrifting stores because there's less people and less demand.
I don't know what the case actually is. But my experience was beyond great and I am very happy about it.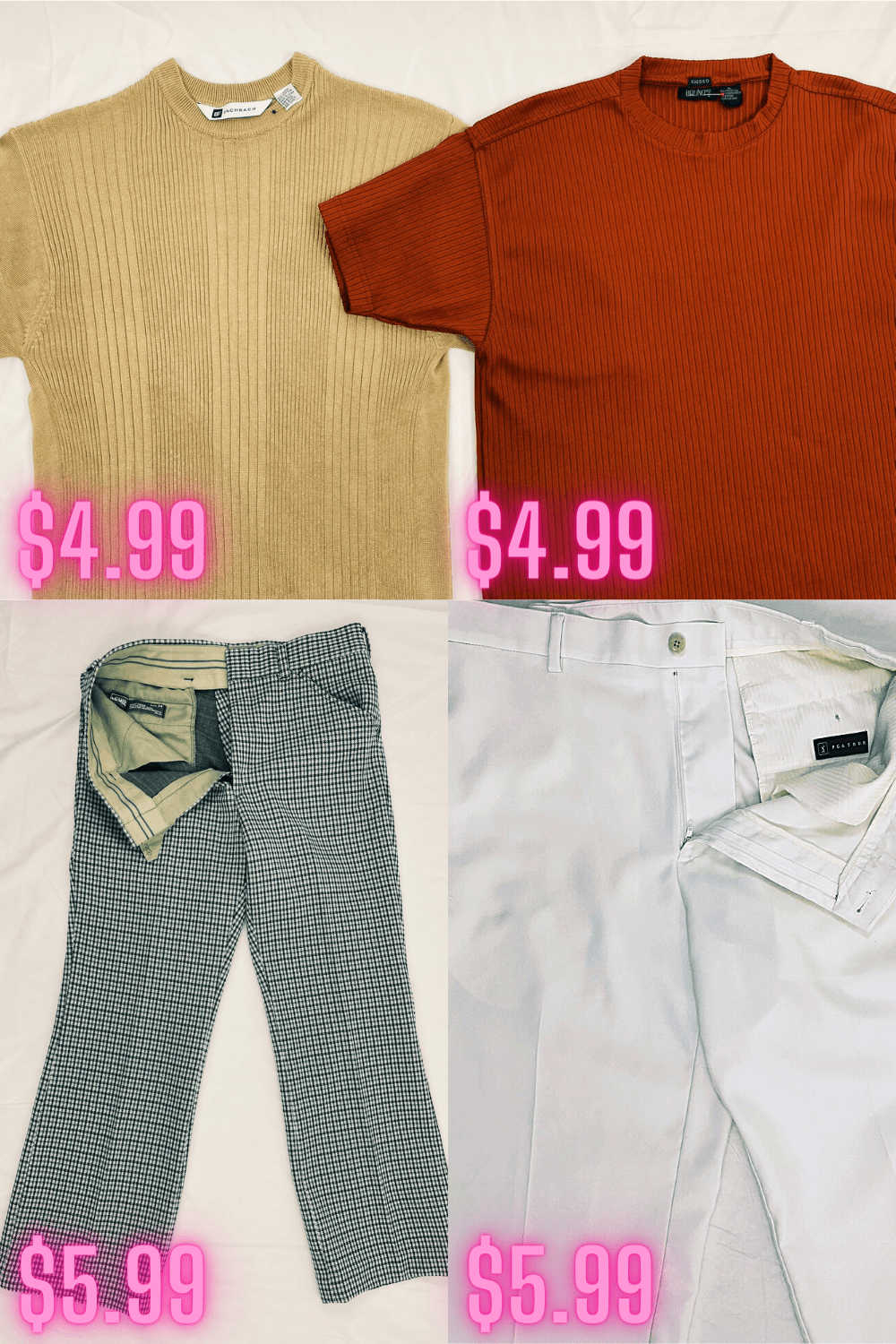 I went directly into the clothing racks. This is where the real fun part begins.
The price of thrifting
I only checked the menswear racks this time. There are two principal lines: shirts/t-shirts and then, pants. Even though at the pants rack you can find blazers and suit jackets.
I saw that mostly every pair of pants were $5.99 and every shirt and t-shirt were $4.99. But then, things that were never worn -like shirts with the brand label on- where around $9.99. Remember, this was at this particular store and specifically last week. What the prices will be later on, I don't know.
I ended up buying 2 t-shirts and 2 pairs of pants, and I spent around $22.00 dollars total. It seams so cheap to me that I am obsessed, specially for the quality of these pieces.
For sure, the first moment I got close to the clothing racks, I knew it. There are good things in that store.
---
70s Tweed Pants!?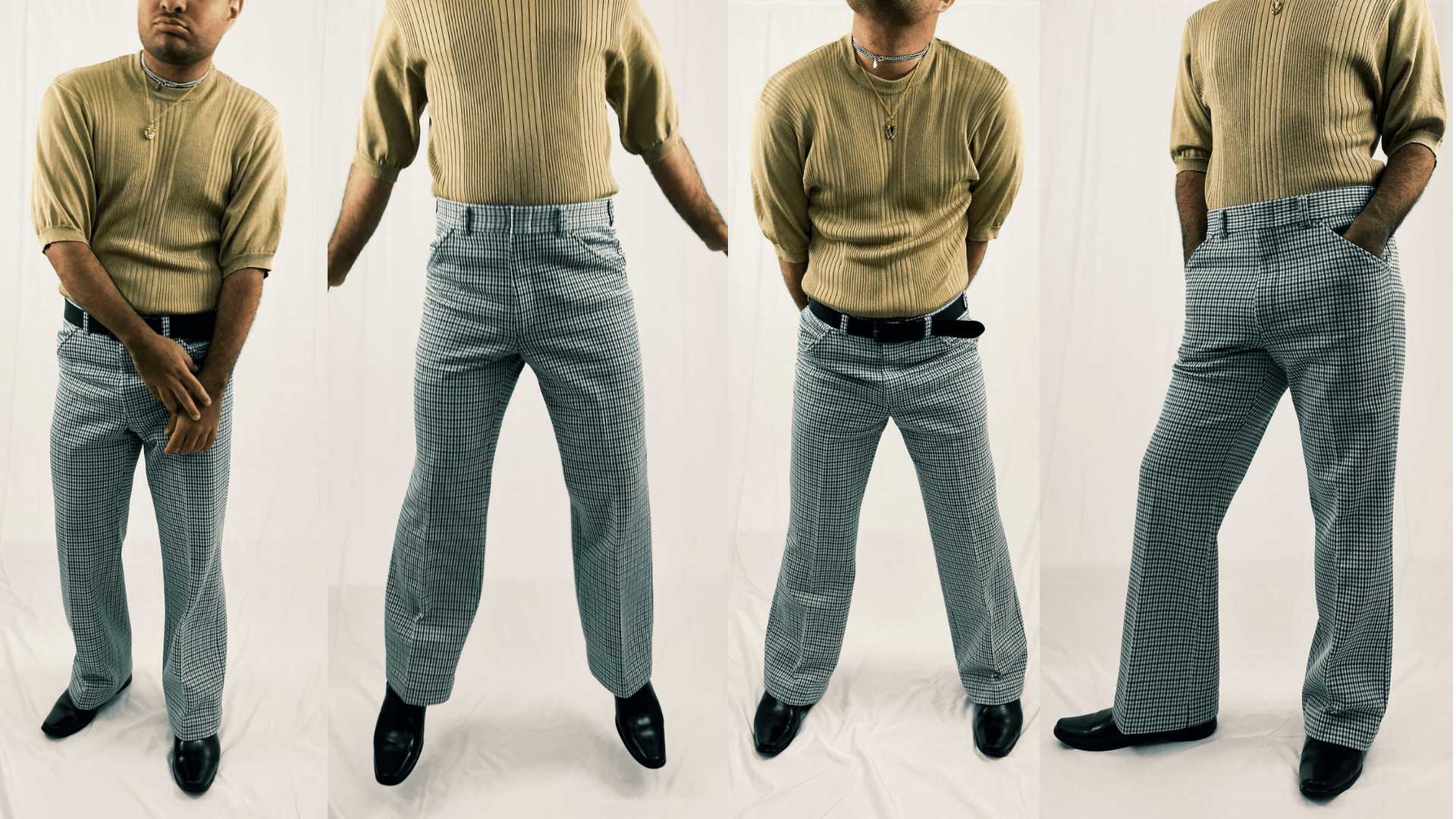 The first piece of clothing I saw was the one that now is my favorite one. This tweed-like pants, that instantly reminded me of a male version of a Chanel suit, are by the brand Montgomery Ward. The color in detail is white, green and yellow. But the effect is divine, I saw these pants from afar. This is a pair of pants that I can not easily find at a store today. That is what attracted me. And it was not only the color, but the fabric quality. I have never own a piece of clothing made of a fabric like this and I just love it. Details on fabric I don't know yet, but this looks like tweed to me. However, the pants have a stretch, so I am not sure and I can't find a description inside.
The pants had a yellow stain on the back that scared me. I could not believe -or accept- that such perfect pants would be damaged like that. I took them anyways, hoping I was going to find a way to clean them. But oh surprise, I washed them one time on the washing machine and the stain was completely gone. What it was, I don't know. But they are 100% clean now.
The condition is also impeccable.
At the store I didn't even try them on. So when I did, I just found out that this pants were practically made for me. I always wear a 32 inches waist, and this pants are a 34. But for some reason the fit is just perfect on me, like custom made. They are not tight at all, and not loose at all, they just fit. And the height is also perfection, which is not easy in my case because I am not so tall and I always struggle to get the right length on my pants. Also, when I got them at the store I did not check the cut. And when I put them on at my house, I found out that they have the most stylish and trendy 70s-like cut that makes me think of my stylish father and uncles having fun in the 70s.
I am obsessed with these vintage pair of pants.
---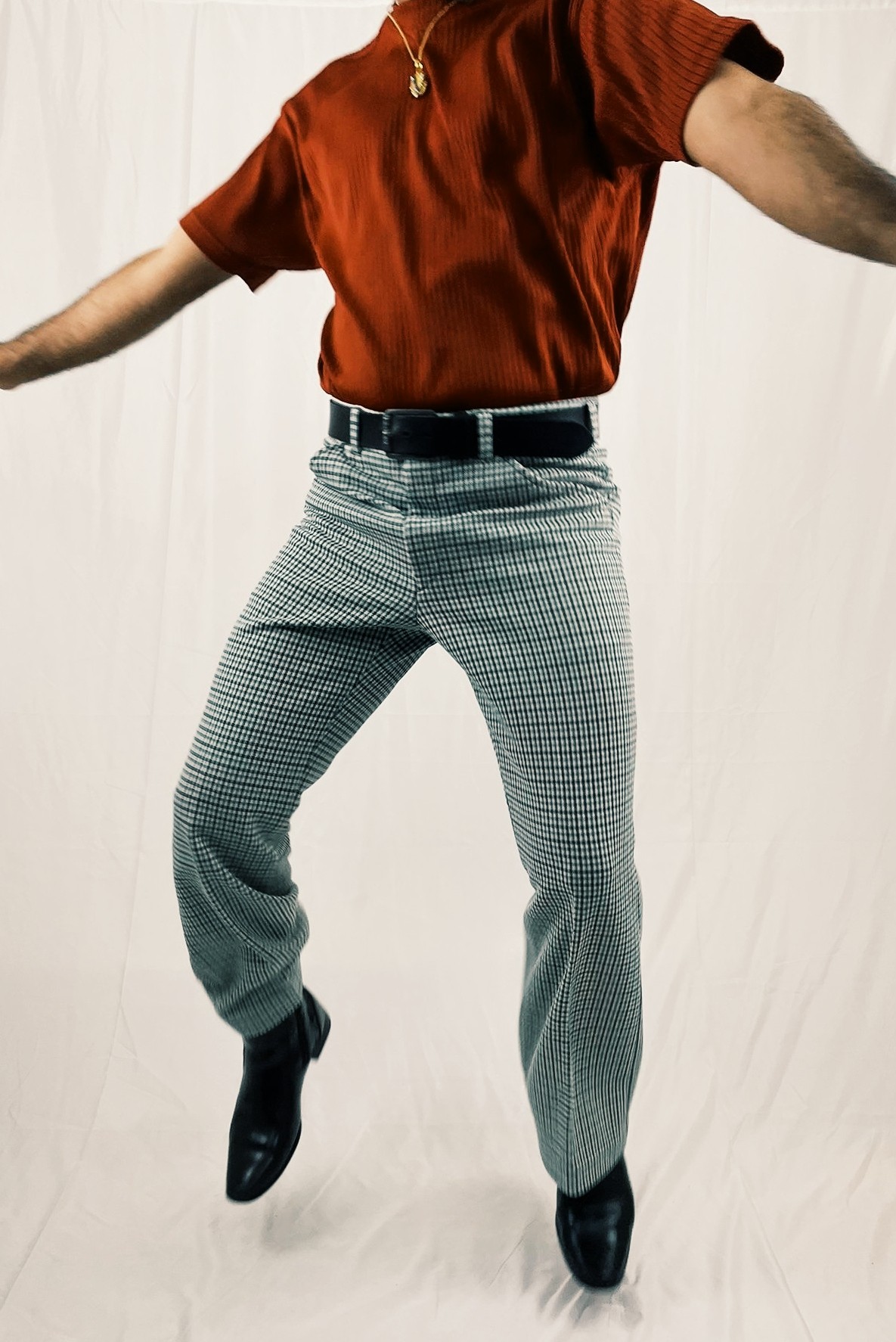 Thrifting vintage t-shirts
The two t-shirts were also a great find. And I got attracted to them for the same reasons as with the pants I talked about before. They look like brought -and they literally are- from another time. The seventies -or maybe nineties-, I would like to say. But I am not sure and I haven't found much information -or any.
I don't know what this fabric is. I want to say that they are some type of polyester, but again, I am not an expert -yet.
The first one is by the brand Bachrach in a beige, almost golden color. I basically love it. The fabric is a bit stretchy and has an almost cable knit sweater-like pattern that I bet was common in the past, but right know makes it so unique.
The condition is not 100% on point because I feel like the end of the sleeves have been stretched out a little bit too much. But from there, everything is fine.
And then, the red thrifted t-shirt
The second one, from the brand Bruno -another brand I haven't heard about before and now I love- is made of a fabric that seams to be the same as in the other t-shirt. The pattern, is more uniform though, but still pretty interesting. If we talk about condition in this one, I would call it flawless. And then the color, it is just a divine burned red color, or brick that I find so vintage-like, elegant and not so common these days. The size on both t-shirts is XL, which is weird to me. In this era those t-shirts would be more of a medium size according to me, but I don't know much about sizes of clothes in the past.
This two t-shirts -as well as the tweed-like pants- will stay in my closet for as long as is possible. I really like this this three pieces.
I styled both t-shirts with the tweed pants, a black belt from Levi's, my favorite boots ever -by Calvin Klein-, which go perfect with this cut of pants- and then, I layered my Versace Versus necklace with an Ann Taylor chain on my neck. And I love both versions of my first ever thrifted look.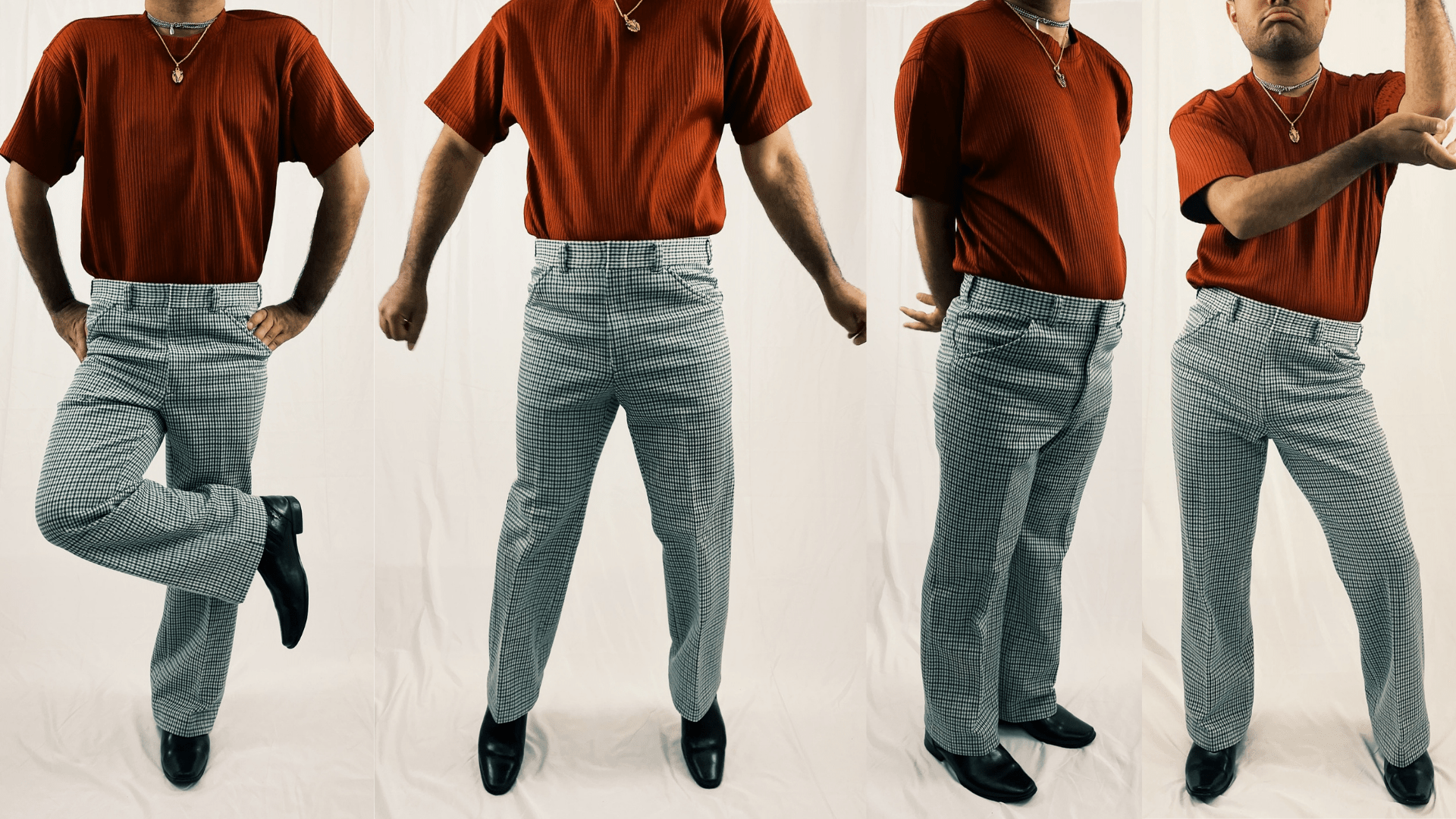 ---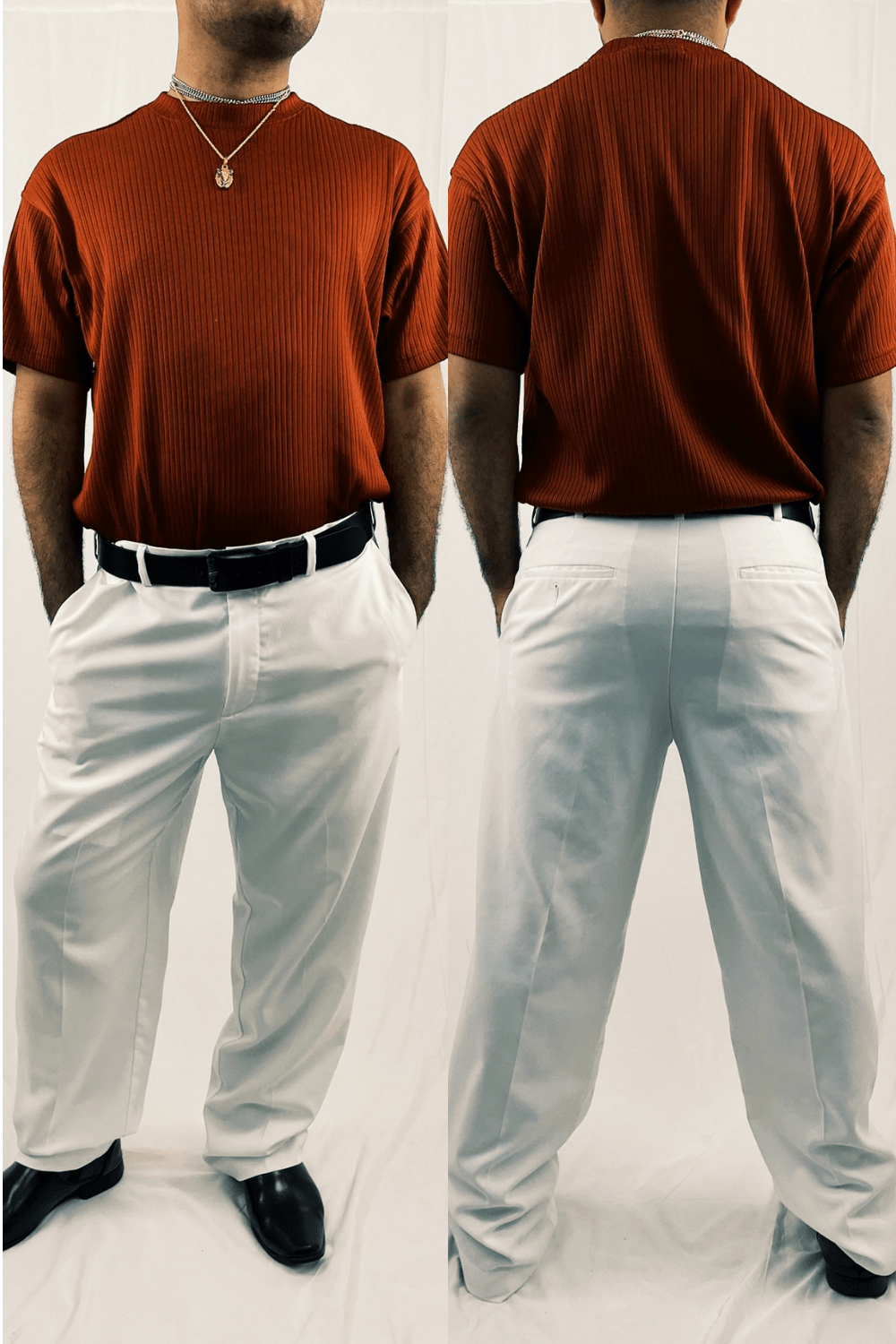 Thrifting Golf Pants
I also thrifted these white PGA-TOUR golf pants. I though it was a great idea to have white dressy pants on my closet. However, when I came back home and tried them on, they didn't fit me. They are also a 34, but they fit me like a 38. I am swimming inside of them and they are way too long.
And then, they are not the type of fabric I am looking for, it's too thin for me and they don't fall the way I want. They are not haute couture, so I could cut them and fix them. However, I think that to make them do what I want, I would have to fix them too much. These pants are simply not for me, at least not right now. I bet there's a better client for this pants. I think I may create an Etsy store and try to sell them in there.
And now I'll tell you what I learned in my first experience. The tips I will give to myself for my next thrifting experience. I hope they help you too.
5 TIPS TO THRIFT BETTER AT GOODWILL
1. Go for thicker fabrics. I feel like with the past of time fabrics life wool and denim keep their quality better than thinner fabrics like jersey for example.
2. Don't over-purchase. No matter how cheap this clothes are, always pick quality over quantity. I recommend you to buy only clothes in the best condition possible. I don't recommend to buy too many things only for thrifting, buy things that you actually will wear and feel good wearing.
3. Go for things you can't find new. With this I am not saying that if you find a white t-shirt in good condition at a thrift store, you should not buy it because you can buy it knew. There's people whom all clothes are thrifted and that is beautiful and ethical. However, maybe thrifting is not only about that. If you are looking for the white t-shirt, thrift it. But also, take this opportunity and try to find something more interesting. Something you can't find at a store today. Thrifting is also about getting unique and interesting clothes.
And what about stains?
4. Don't be afraid of stains. A lot of the clothes there have been abandoned by their previous owners because of stains. If I would be afraid of stains I would have lost a pair of pants that I really love. Sometimes, like in the case of my tweed-like pants, the stains are not that difficult to clean. And today there are so many products and services that you can practically clean anything. So I recommend that if you really like it, be brave, buy the piece and find the way to clean it.
5. Understand the organization of the racks and have an idea of what you are looking for before going to the store. This is not the most common tip you will find. But I think it is important when thrifting and when shopping in general. We can't waste time or money in things we don't need, and this is also pretty ethical. What I recommend here is to get an idea of the organization of the racks in the store first, so you know exactly where to go when you enter. And if you also know what exactly you are looking for, even better. Following this tip you will avoid walking trough racks and shelfs of things you don't need and purchasing them.
---
In conclusion, do I recommend Goodwill for thrifting vintage clothes? Yes! all the way. I can't wait for the next time I go and to visit other thrifting stores too. And now, what do you think about all of this? Do you thrift?
xo
Related links: Check this Pinterest Boards for thrifting and style inspiration: THRIFTED MENSWEAR, VINTAGE MENS FASHION, 1970s MENSWEAR and 1980s MENSWEAR. Also check this post about the Cottage-core Aesthetic for extra inspiration.