I can't deny that the fact that in this side of the world men in kilts and skirts are still considered insanely brave, weird and even taboo, is disappointing. However, it seams like our generation is destined to change that.
Let's be honest. We are talking about a piece of fabric that you put around your waist. Why is it so controversial? Yes, some people talk about how the difference of silhouette between the hips of a man and the hips of a woman results in a need for a skirt for a woman and a skirt for a man, independently. But does it really matter that much?
In ancient and modern civilizations in Egypt, Rome, Japan, Scotland, etc., men wore and are wearing skirts and fabric around their bodies forever and for different reasons -For example: the Shenti in Egypt, the Sarongs in different parts of Asia and the Kilts in Scotland- and their closets were and are perfectly fine. And let me be clear, this is not a history entry on my blog, but I need to mention that in the beginning pants were created to ride horses in a more comfortable way, not to differentiate what a gender should or should not wear.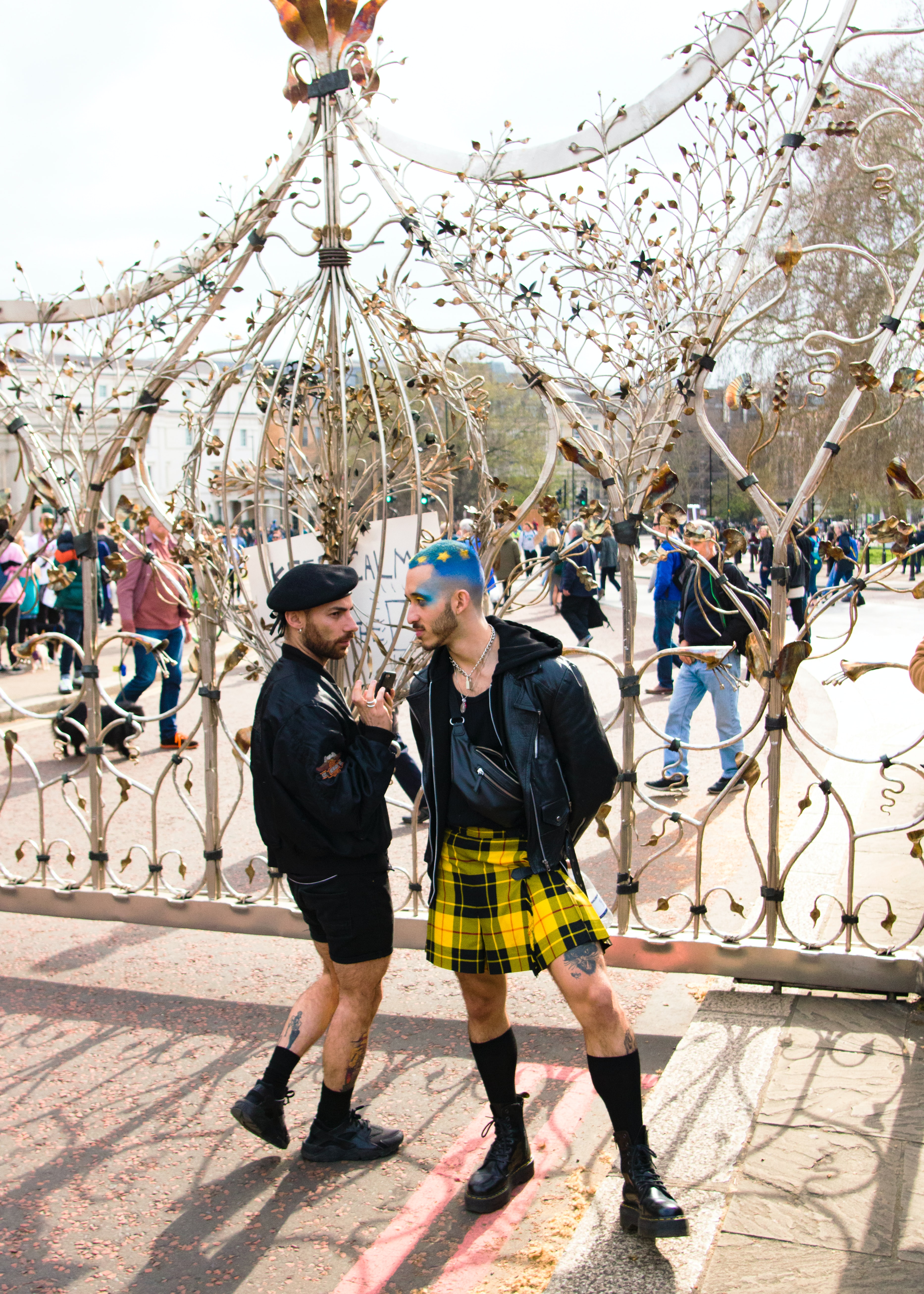 Gender is a social construct
With that said, let's talk. Guys, skirts are coming stronger than ever. I cannot tell you when the Big Bang will take place, but it will happen. The roles -and the set of rules they include- that society is imposing on us are about to be deconstructed. It is time to create our own individual roles without unnecessary rules and even though fashion is not the key to take down the toxic masculinity we have been forced to keep, it is a way to start.
Pop Culture Men in kilts and skirts
Even though a piece of clothing like a Kilt is more related to culture and tradition, they are not new to the industry of fashion. During the years brands like Jean Paul Gaultier, Vivienne Westwood, Rick Owens, Burberry, and many others have shown us men in kilts and skirts. Also, music legends like David Bowie, Jonathan Davis -lead singer of Korn-, Kurt Cobain -and other Nirvana members-, Kanye West and more recently Harry Styles and Bad Bunny have wear kilts and skirts as part of their outfits.
One of my favorite celebrity kilt moments is when action star Vin Diesel wore one for the 2003 MTV Europe Music Awards. He wore a black leather kilt styled with a black sweater and black boots. This is a look I would actually like to replicate, it would be a great fall/winter look.
Men in kilts and skirts in the streetwear scene
In the streetwear scene, men in skirts and kilts are becoming more and more visible every year. Specially in the Japanese streetwear scene.
Styling a man on a skirt
If we talk about the styling of one of these pieces of clothing I will give you three pieces of advice. First, always -or almost always- go for the tartan. Second, look for ideas on the Punk scene of London and specially on Vivienne Westwood's menswear work trough the years. And third, if the Punk Aesthetic is not your thing, when styling a skirt go for the basics as a complement -this advice works for any other statement piece you would like to style. Click here if you need more information about the basics or essentials of menswear.
In Conclusion, when we are born our DNA brings all the information about our body. But we need to understand something. No organ of our body comes with the information of what we should or should not wear. Gender is a social construct that we can't deal with anymore. And yes, a piece of fabric around your waist is not the solution, but it is a start. And a great step towards your freedom.
My recommendation is this: if you are feeling the skirt vibe and you don't have a skirt to wear, DIY one with a blanket scarf around your waist and go have fun. The truth is that you really have nothing to lose and everything to win.
And now, what do you think about all of this?
Related Links:
For outfit inspiration, check this Pinterest board dedicated only to outfits of men in kilts and skirts.
Also, check this article about menswear trends for the spring of 2021.