L'uomo Vogue said it and I agree, the first piece of clothing you need in the Spring/Summer of 2021 is a bomber jacket. And with this DIY project you will learn how to make a bomber jacket yourself, so you don't have to break your bank account to get the right one.
Which is the right bomber jacket for 2021 tough? It depends. If you ask Gucci, they would tell you to get one taken directly from the seventies, if you ask brands like Philipp Plein, Prada and Hermès; they'll tell you to go classic and minimalist. If you ask me -and even brands like Etro and Moschino-, the answer would be: go for the prints!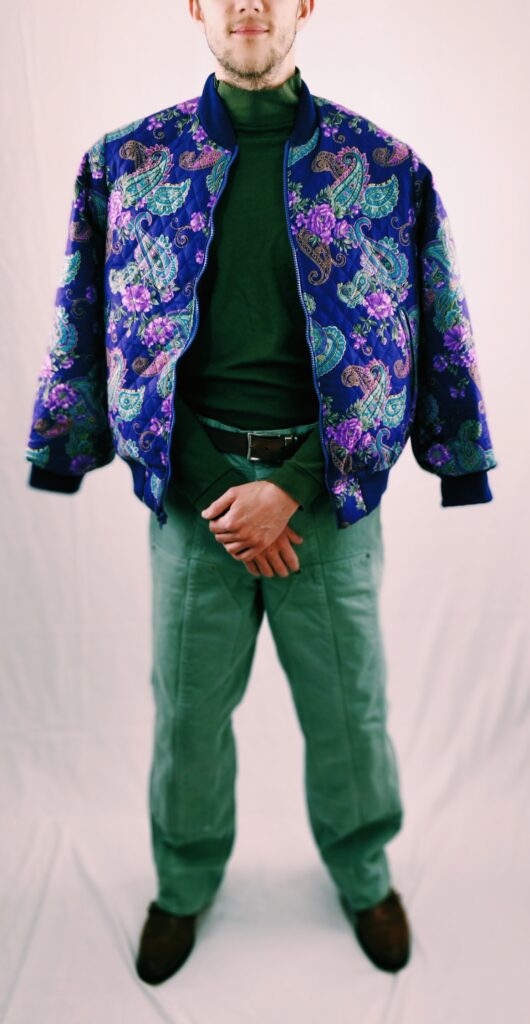 Let me put you in context. Months ago, I am walking trough Joann's hallways and to be honest, I was looking for a pre-quilted plaid -I don't even remember what I wanted to do with that. And in the process, I found -almost by accident- this pre-quilted purple floral/paisley fabric. And even though at the beginning I was insecure about it, I was incapable to not buy at least 3 yards -it is just a fascinating print.
My first idea was to create a long coat. I needed a great voice of reason to make me see that this was the perfect time for me to create my first bomber jacket. The fabric was perfection.
But enough about me, let's get started.
DIY PROJECT: BOMBER JACKET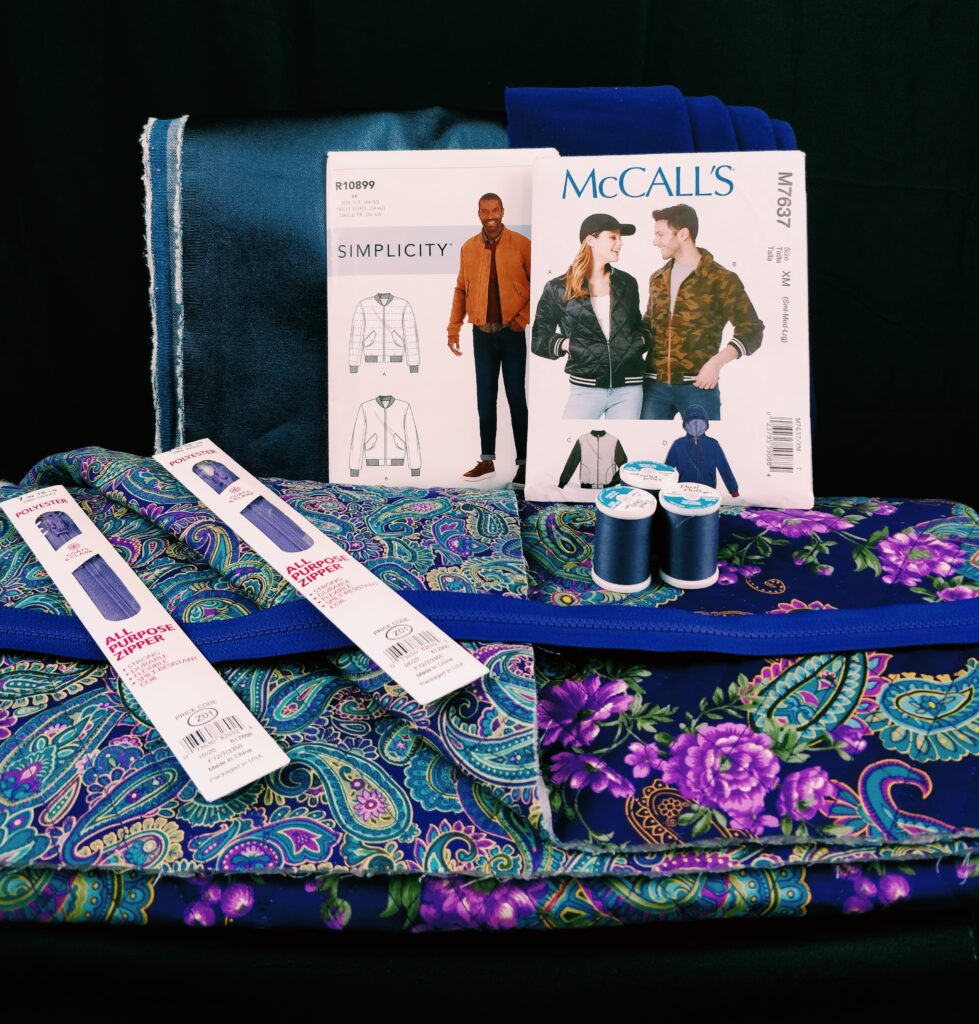 MATERIALS I GOT
As I said already, this was my first time making a bomber jacket and I wanted to do it the best possible -for someone that has only made a couple of other sewing projects before. So I needed a pattern. I got a couple but ended up going with McCALL'S M7637. And I went with model A, which I consider is the most classic bomber jacket design.
I had the purple floral/paisley and to be honest, I like both the front and the back of the fabric -a fuller paisley-, so my first idea was to combine both prints on the front of the jacket. But then I made great the decision to go with only one.
I got the zippers, rib knit trim and of course the thread needed. And for the lining I got a navy shiny or foil denim that I also love. I need to say that if you use a pre-quilted fabric as I did, you don't need such a hard lining because the fabric already has a lot of structure -maybe too much to be honest.
Link to the fabric:
Double Faced Quilt Fabric Purple Teal Paisley (at Joann's) – check here.
FOLLOW THE PROCESS!
Advice: Read the instructions before you start. I did read before, but not deep enough and I ended up messing up the process to attach the lining. I found the way to do it -I had to hand sew some parts- and it worked, but it took much more time than needed and it was a bit frustrating.
Sum up steps:
Cut the pattern and pin it to the fabric. And then cut the fabric.
Sew all the pieces together. Easy, right?
That's it! You got a great bomber jacket that no one else will have. You are basically ready to rock the spring of 2021.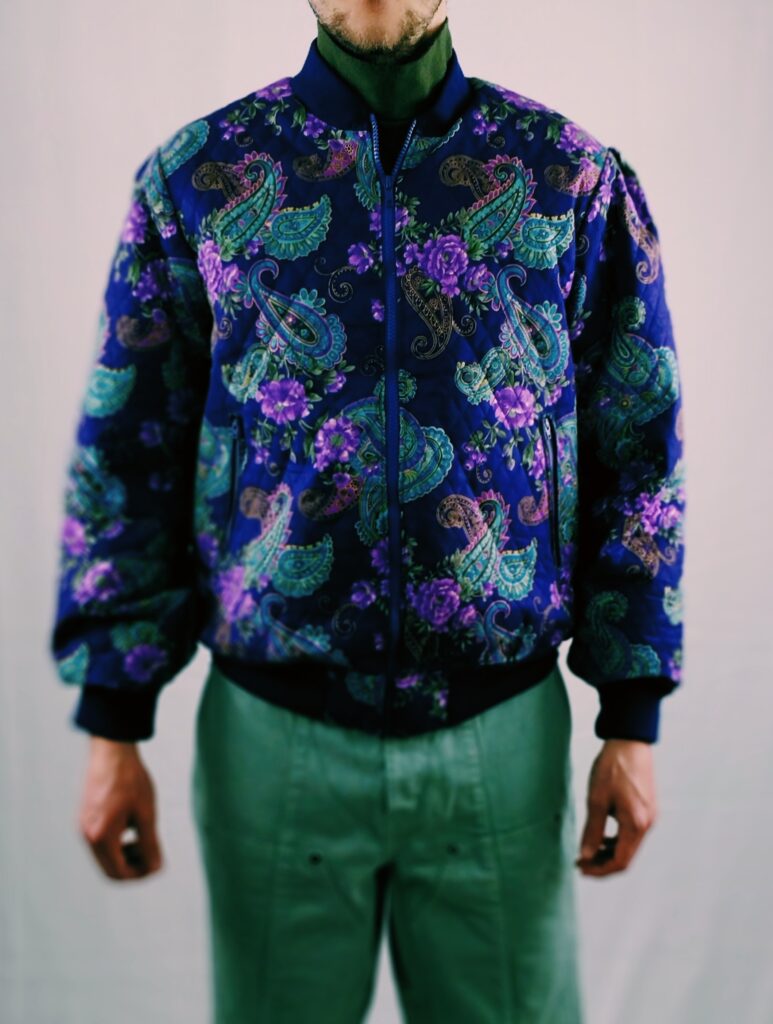 An extra tip I can give you -based on my own mistakes-: do not cut the pocket openings on the lining.
I have to say that even though this bomber jacket is not perfect, it was a great experience of firsts for me: my first time making a bomber jacket, my first time sewing pockets, my first time sewing zippers and my first DIY project for this blog. I have to say, that I absolutely love the result.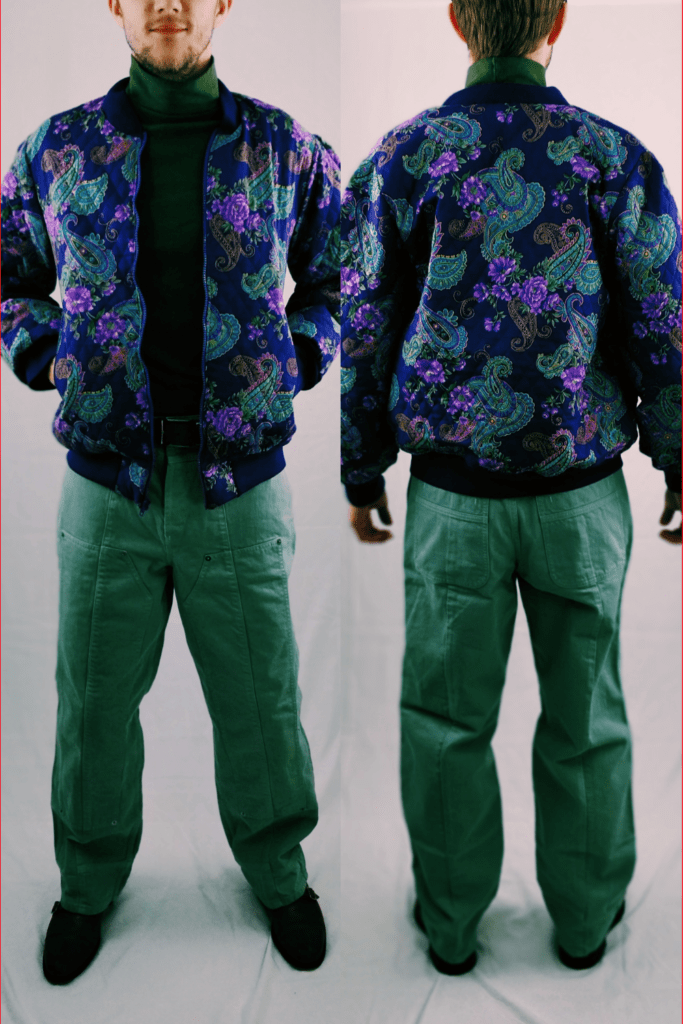 In this pictures the bomber jacket is styled with a green turtleneck by Club Room, green jeans by JACQUEMUS, a brown belt from VELEZ and brown shoes. Model: Rafal Truszkowski.
Now it is your time to make a jacket like this! And then rock it all spring.
Now tell me, do you like my version?
XO.
P.S.: Here you have another idea how to style this piece.