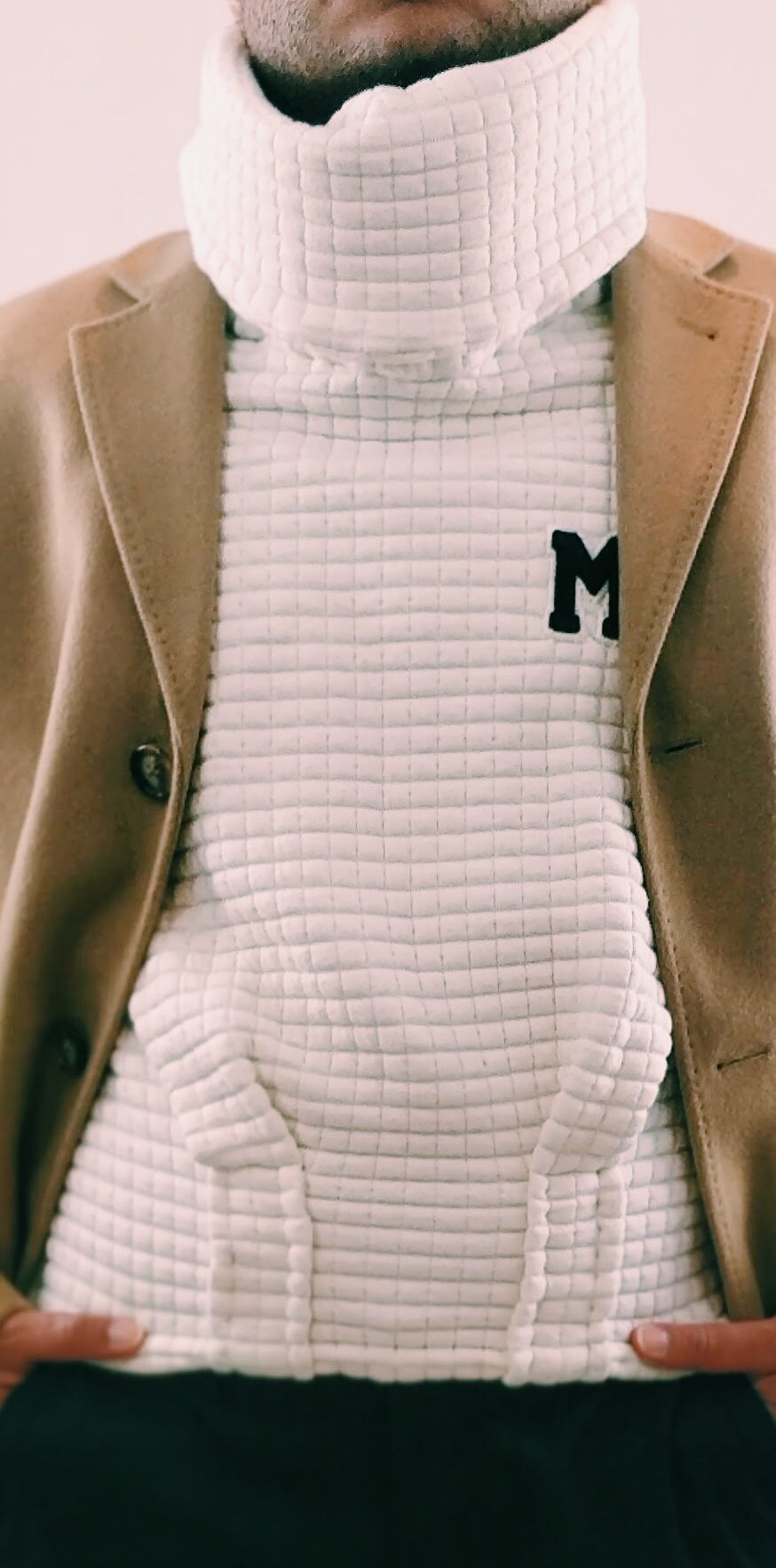 If there is a fashion myth that we have to break is that overcoats look good only with suits. Today I share 3 fun ways how to style an overcoat, the most classic of all: the camel overcoat. A piece of outwear that will look great with suits, with shorts and any other fun look you could think about.
The key to succeed will be opposites and balance: short and long, wide and tight, black and white, etc.
If there is something we can learn from the runway is that for the spring/summer 2021 overcoat/trench-coat trend the sky is the limit. Brands like MSGM, Loewe, Études, Rick Owens, Homme Plissé Issey Miyake and Ermenegildo Zegna were not afraid of volume. And when styling, they were not afraid either, shorts and even pool slides were found hanging out with overcoats.
The overcoat that I am styling today is by Ralph Lauren. Check it here.
Let's check some looks.
1. BLACK AND WHITE MINIMALIST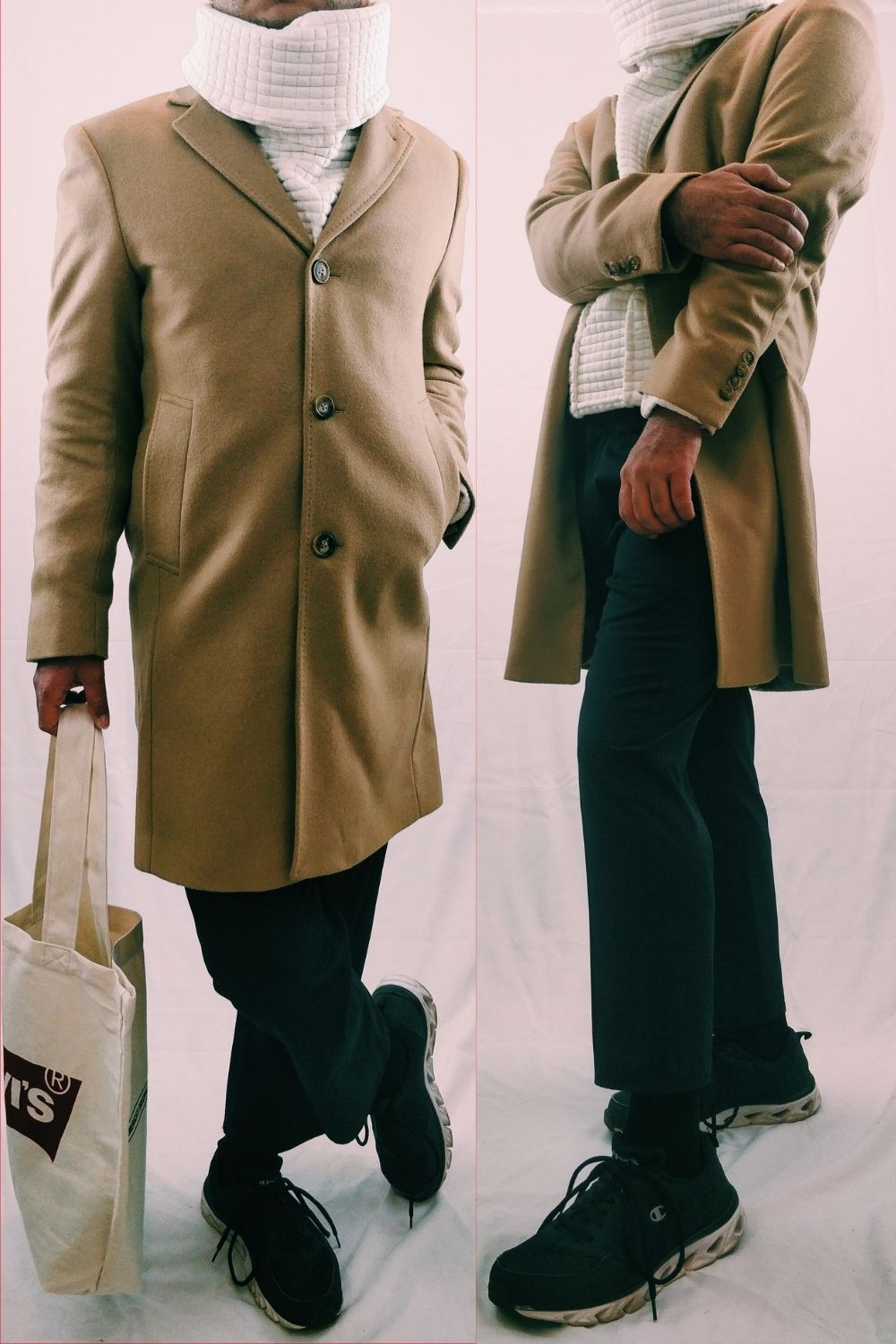 Black and white never fails, and when used to style a camel overcoat you have magic. To achieve this minimalist look make sure to use crop pants. They are honestly not the most flattering of all if -like me- you are not so tall, because the pants will make your legs look shorter. But here is a trick to help the look elongate your leg instead: black socks and black shoes -a chunky sneaker will look the best.
Continuation of color from waist to feet will make your legs seam longer and you'll look taller. And when you are not so tall and you are wearing a long coat, you will probably need that.
Another tip I can give you is to keep the coat open to show the waist/torso separation. That way the leg doesn't look so short. But honestly I don't think it's needed as the silhouette is intentionally graphic.
Accessorize the look with a tote bag and you are ready to rock the spring.
My favorite place to go wearing a look like this would be to a café to catch up with friends or even to the farmers market. Of course, this look is more appropriate for the beginning of the spring and definitely not for the summer.
The turtleneck sweater in the picture is by me -Raf Montilla-, the pants are by Oscar de la Renta -cropped by me- and the tote bag is by Levi's.
2. How to style an overcoat with earthy tones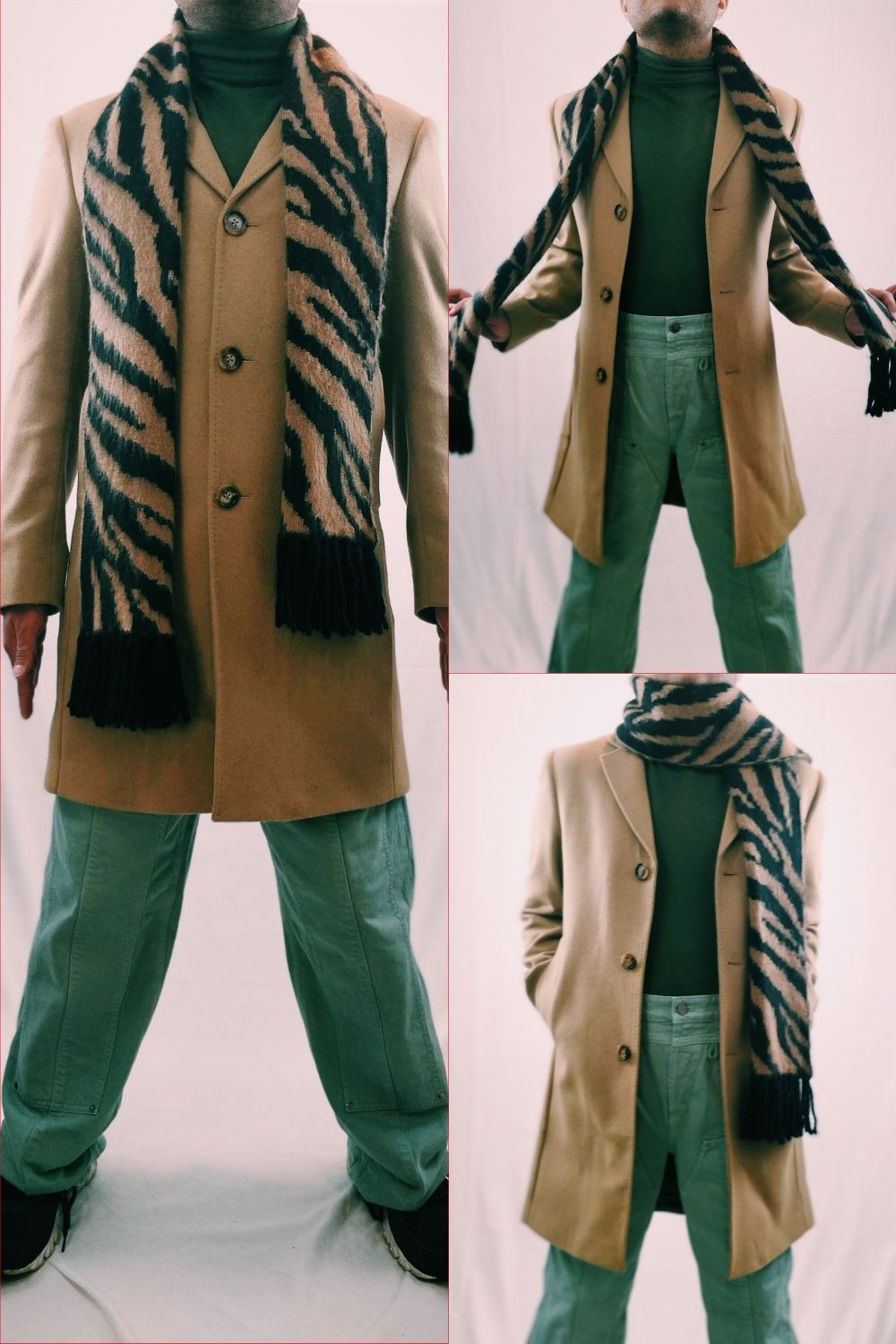 This is another look that is more appropriate for the beginning of the spring if you live in a cold city like Chicago -as it is almost a pure winter look.
Nothing goes easier with earthy tones as earthy tones do. And that is the idea here. However, I need to make clear that this is not a monochrome idea, we need different colors and tones to achieve the look.
For this look I am wearing a green turtleneck by Club Room -notice that this is a thin sweater-, green jeans by Jacquemus and a Levi's animal print scarf that breaks the graphic color block and completes the look.
This look is great to go have dinner, to the movies or to any event where you want to look very chic and feel very comfortable at the same time.
Check this post for another version of this look.
3. Geometrical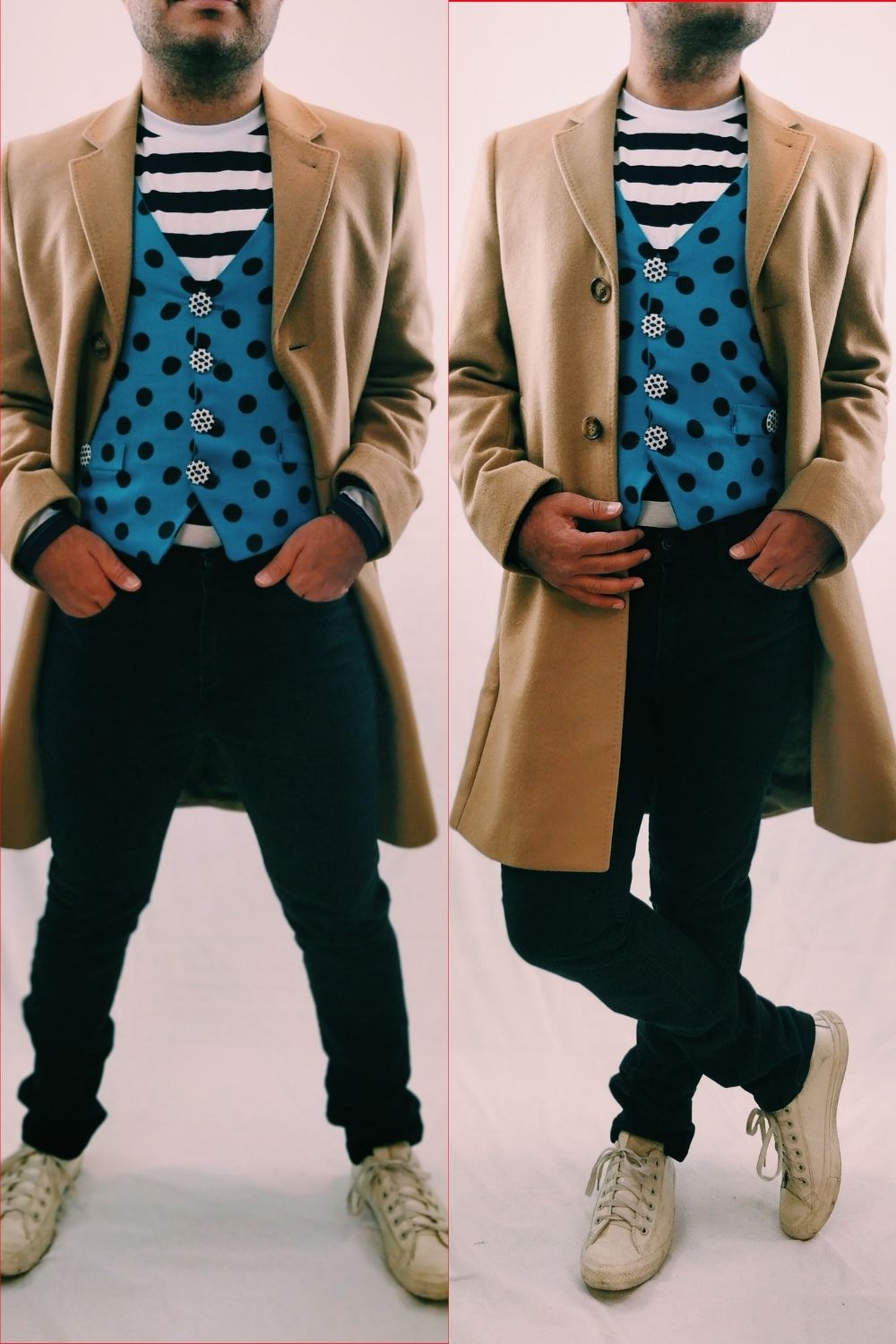 Another trend that we saw in the runways of brands like Giorgio Armani and Versace for the spring/summer 2021 was wearing vests, kimono style shirts and v-neck sweaters under suits. Inspired by that, I had the idea to add this polka dot turquoise linen vest under our overcoat and to make it even more geometrical I added and stripe navy/white t-shirt under the vest.
To break the graphic I wore black 510 denim by Levi's and my old as the universe converses that almost make this an "skater look" from the 2000s.
However, I wanted to go even further on the geometry and decided too add the shorts for this variation look.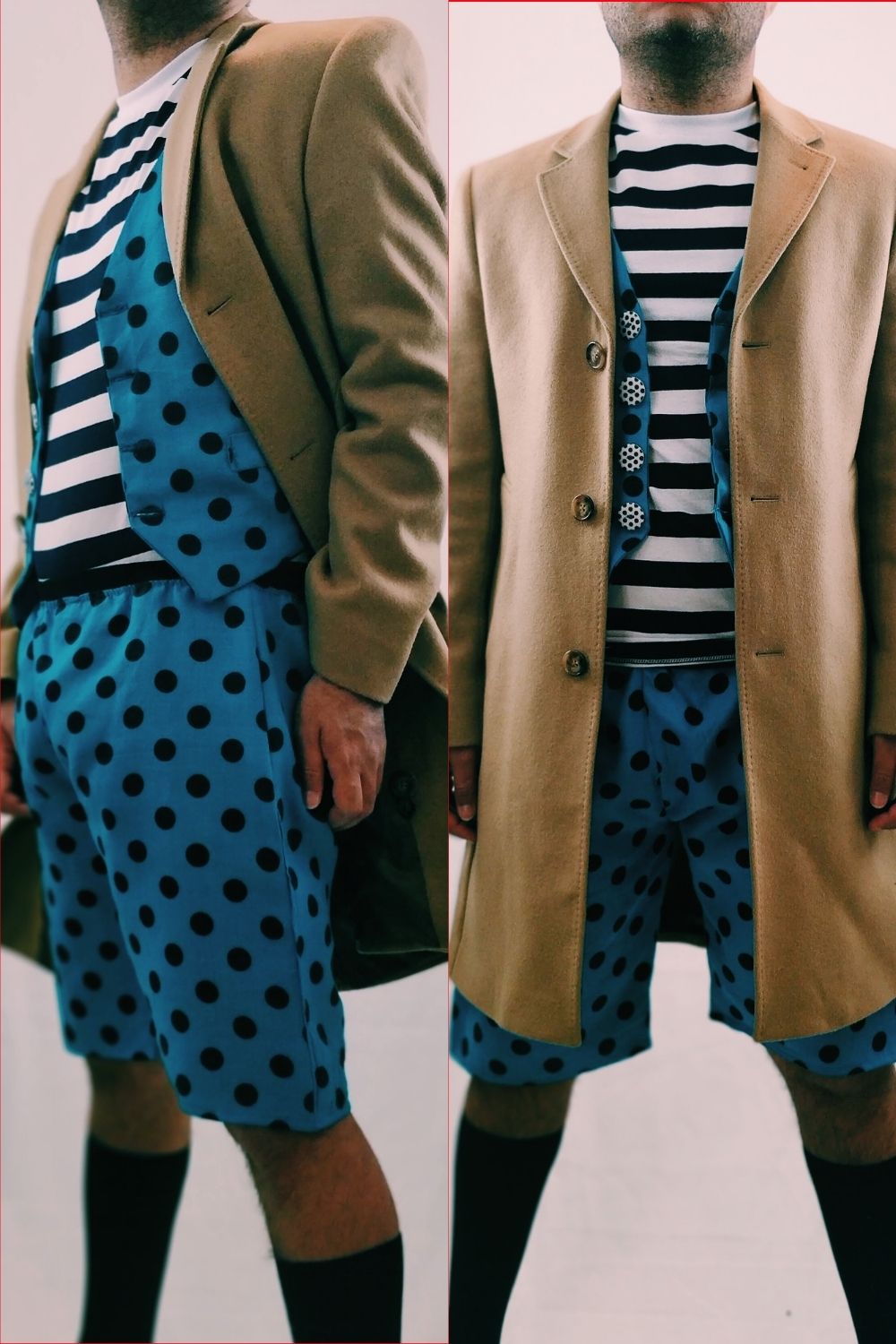 This is another trend for this season. Probably one of the craziest and of course one of my favorites: shorts and overcoats -like we saw in brands like MSGM and Jacquemus. And even another trend: bold Bermuda shorts. Like we saw in brands like Casablanca, Dior and Gucci.
And I have to say that I can't avoid to see a reminiscence of a Tom Browne ensemble on this look and I am really happy about it.
Where to go wearing something like this? If you go bold, go bold. So go anywhere you feel like it and rock the spring. Teach people how to style an overcoat.
The stripes t-shirt I wear here is by Asos, and the vest/short ensemble is by me -Raf Montilla.
---
So what do you think of this looks and which one would you wear?
XO.