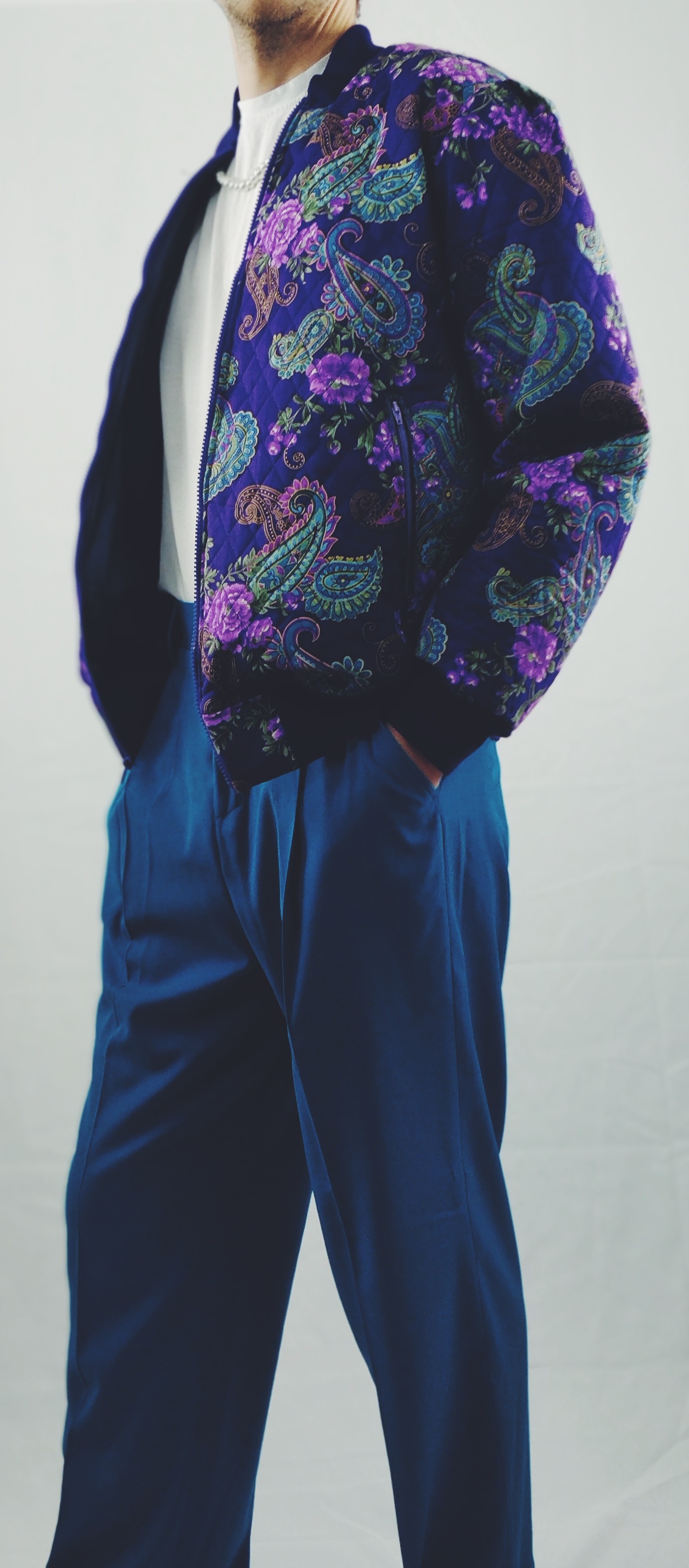 When I talk about this blog, I have to leave my objective with it very clear first: This blog is my way how to start a fashion brand. Which, getting much more personal than I would like to, more than my goal, is my dream.
My decision to keep this blog as impersonal as possible is still intact. However, If I am going to post content for you in here, searching for something else, I need to be honest. What am I looking for? An audience/client for a fashion brand. But I won't say more for now, I'll get to the post. And of course, not every post from now on will be about the brand or myself.
TBF: THE FABRICS BLOG AS A BRAND. This type of analysis is one of the first steps how to start a fashion brand.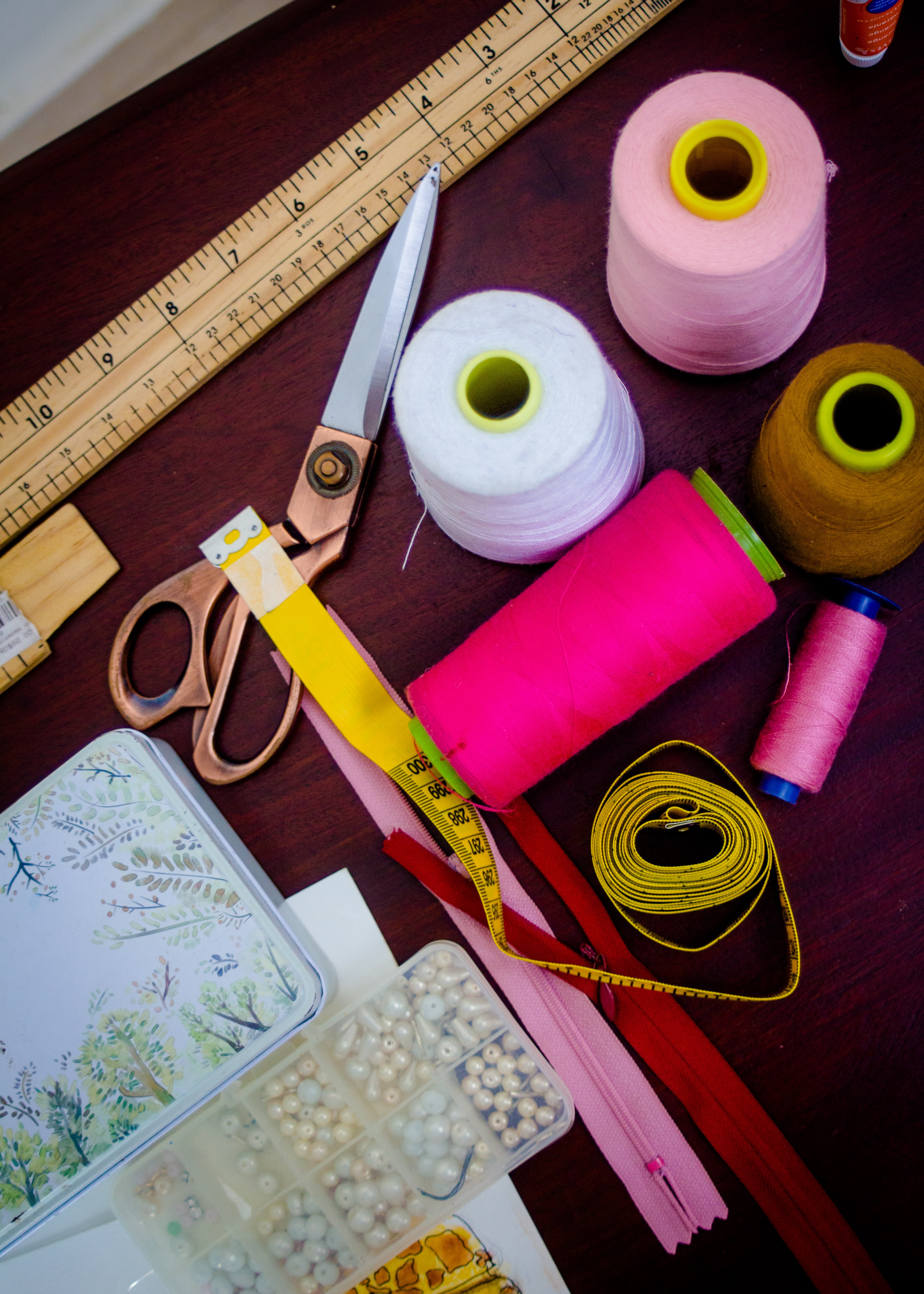 A name, a logo, a client, an aesthetic, which product will you offer and at what price, etc. There are so many things to pick and pay for when you plan to start a brand, and in cases like mine, with such a small starting budget, you have to be careful and spend money only on the totally necessary. So I made the decision to learn how to sew before everything.
Yes, I know that some designers have been open about not really needing to sew. But that is not my case. If I learned something from one of HBO's best shows ever "How to make it in America", it is that a prototype or the first sample of a fashion item is expensive for a starting brand. So my first clear goal is to learn how to sew myself and that is what I am doing. And I am not looking to sew as a pro, but I am looking to sew good enough for my first samples to be good.
How am I learning? Youtube and practice.
As of today I have made seven pieces of clothing and this blog post is a HAUL of those pieces. Which could or could not give you an idea of what my brand may look like.
Influences of THE FABRICS. You need this clear when you are learning how to start a fashion brand.
As a designer -which I pretend I am-, my influences -if today I would be designing a first collection- are pretty clear: Courtney Love, Marie Antoinette, and other women with lives in equal parts tragic and glamourous. Also the punks and Vivienne Westwood's designs trough the years. And my own life. Who am I designing for? As always for myself, but also for anyone else who may like the clothes. My brand is in early development and I'm still learning and discovering it, but today, I describe my target client as unisex and genderless. What do I mean? That no matter if you are man, woman, non-binary or anything else, you are the perfect client for EVERY piece. And every piece, has to be perfect for anyone no matter their gender.
My client is also someone who needs to say more than what we are expected to say.
Those quintessential THE FABRICS BLOG pieces, however, you can not see yet in the clothing I am making -at least not in every piece. These clothes are not even a test collection. I would call this my "learning how to sew" collection and it is 0% cohesive.
THE FABRICS BLOG HAUL
I tried to organize the pieces in categories.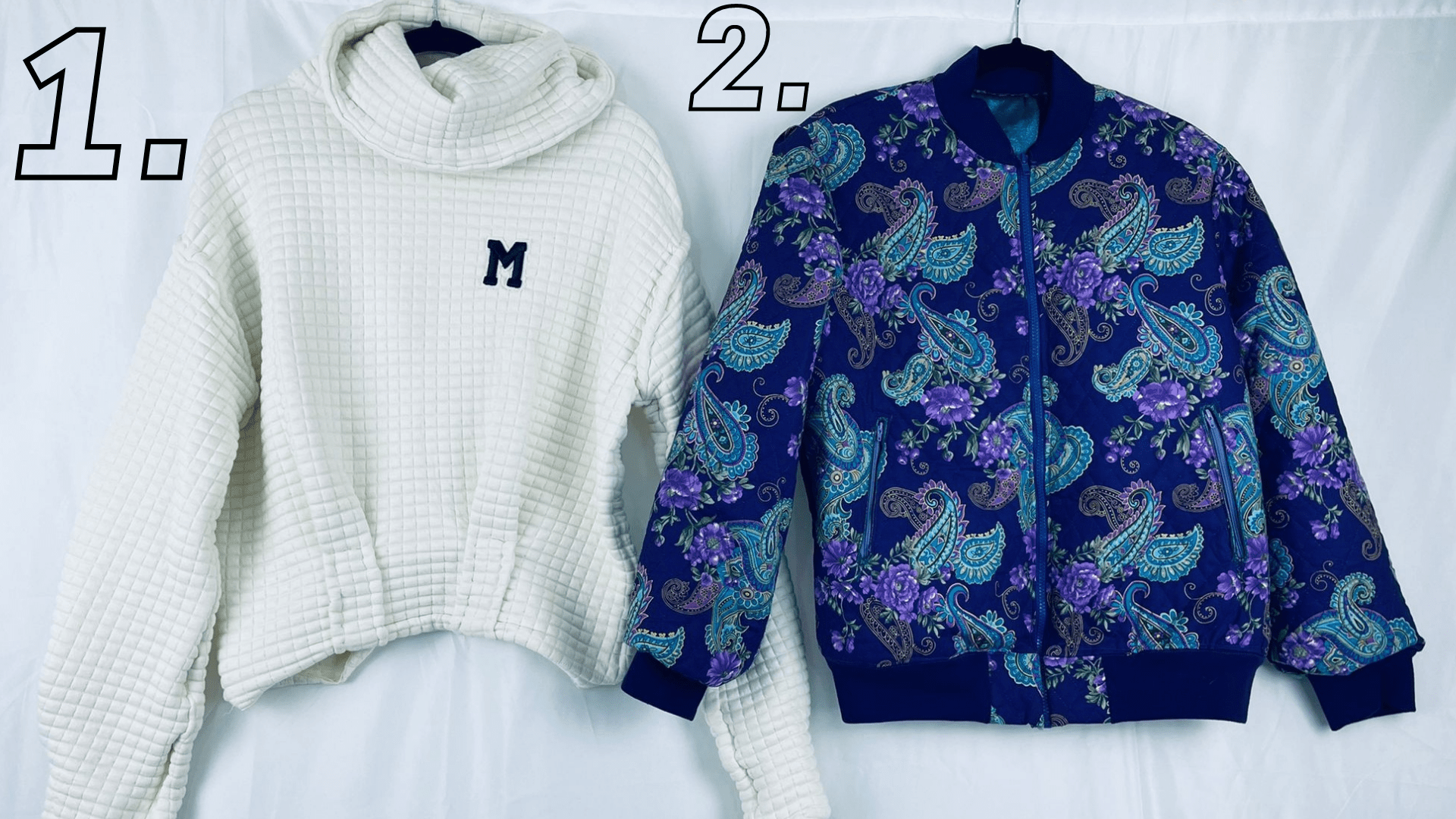 Outerwear
1. The white varsity inspired turtleneck. This sweater has been featured in this blog before. It is the fifth piece I made and my personal favorite. Also, the only one I would call a real prototype of my brand. My inspiration would be actually between a varsity jacket or sweater and this white fabric directly. I have to confess that the challenge that is still for me to simply pick fabric is hard, but I think this was a good pick -for this state of my brand, at least. When I build my brand I want to pick the fabrics with two principles before every other characteristic: great quality for the buyer, and most importantly, fabrics that are eco-friendly and produced responsibly. So, I am in the process to learn how to pick fabrics that way, because I am not there at all.

The sweater has stitches done by machine and others done by hand. It obviously has errors and some of the hand stitches have broken -I am planing to re-stitch them-, but the shape makes me happy. I used another turtleneck of mine to trace it and create my pattern –click here to learn how to do that-, but I modified it so much to shape the front and corset-like back that I consider it pretty much my own design. Something I would definitely change: the letter has to be much bigger -or the appliqué would have to be totally different or inexistent.
Here are some links where you can see more pictures of this sweater:
Click here to see a look by THE FABRICS BLOG styled with this sweater.
And also, click here to see another look styled with the same white turtleneck.
This is for sure a piece of clothing you may see at my brand.
Florals are a key of my design today
2. The Sukajan-like floral/paisley purple bomber jacket. I have to say that with no doubt of all the clothes I have made, this is the one with the best quality, and because of that the only one I would actually be comfortable to sell at this point -however, it was a gift I made, so I won't. I made it with a commercial pattern, so I don't consider it totally my design, however, the use of this type of print is something you could totally see on my brand.
Here are some links were you can find more information on the construction and styling of this bomber jacket:
Click here to see the whole process of construction of this piece.
Also click here, to check a styling idea for this jacket.
And then here, for more information about it.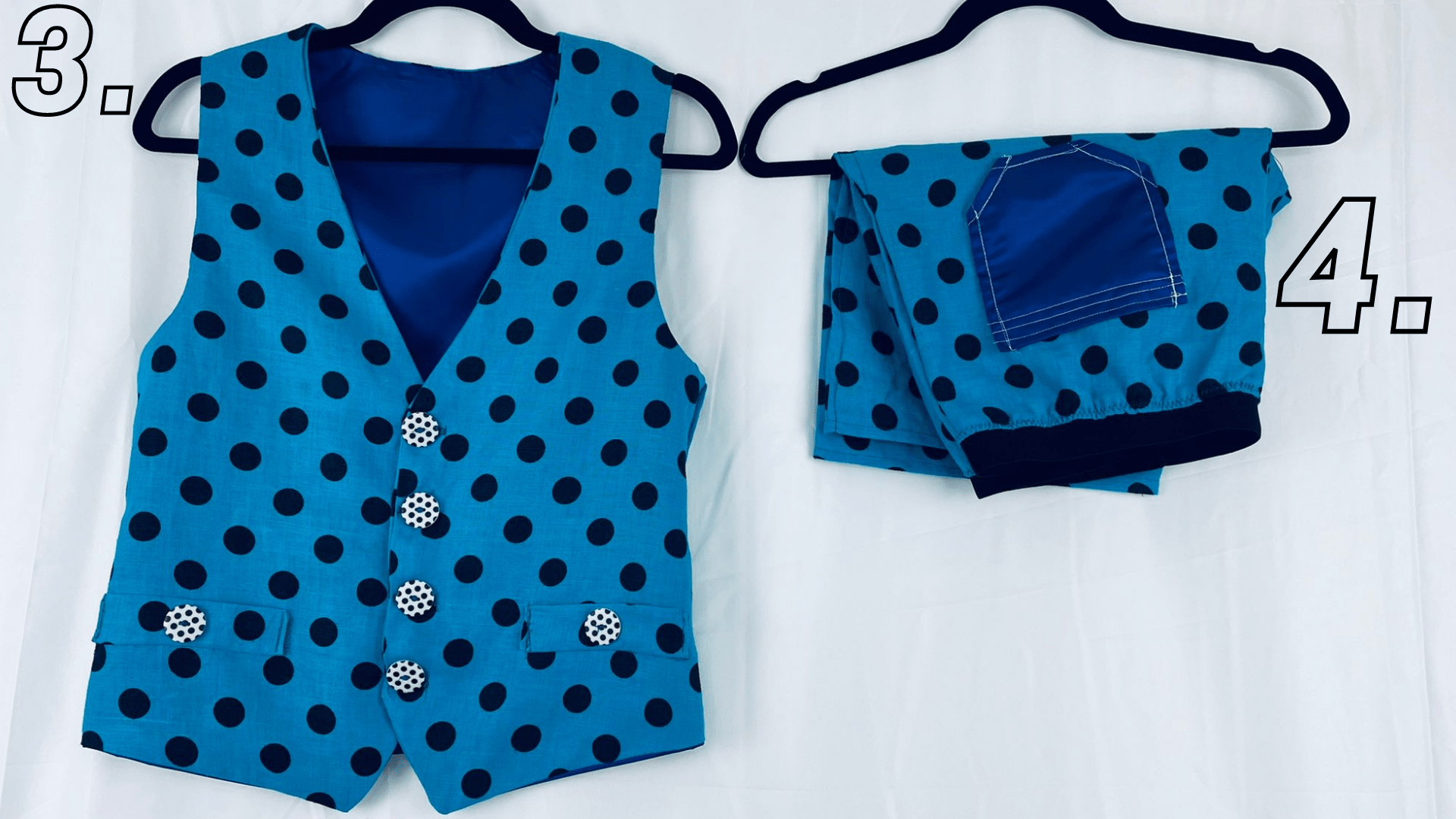 Sets
Will you see two-piece sets in my brand? Probably, but I don't think it will be a vest/shorts set like this one.
3. The turquoise polka dots linen vest. You have seen this piece before in the blog, even though I never shared how I made it. This is the first piece I made on a sewing machine and with fabric. I used the first pattern I ever purchased and I think the quality is great. However, if I make something like this today, I would totally use interfacing. Especially on the area of the button holes which is already damaged. And I would not use those buttons which in my opinion take the vest out of the fashion world and into a clown's wardrobe.
I remember picking this linen fabric, it was my first time and it was so difficult with no guidance or experience -I was picking online. I still love the print, but I definitely would not recommend linen for your first sewing project.
And more polka dots
4. The turquoise polka dots shorts. Easy, I had some of this fabric left and I needed to keep sewing, so I traced some of my shorts and made this ones. Full of errors, but unique and the fact that they are lined with the same lining as the vest makes me happy. Lined shorts and pants is something that I have never seen in person -even tough I know they exist-, but I think you will see that in my brand. Of course this lining takes away the summer-like freedom of linen, but I am in the process of learning and figuring things out. So I can't make any concrete statement about this yet.
Here are some links where you can see this set featured:
Will you see this type of print on my brand? Yes, but not this way. Maybe mixed with other prints.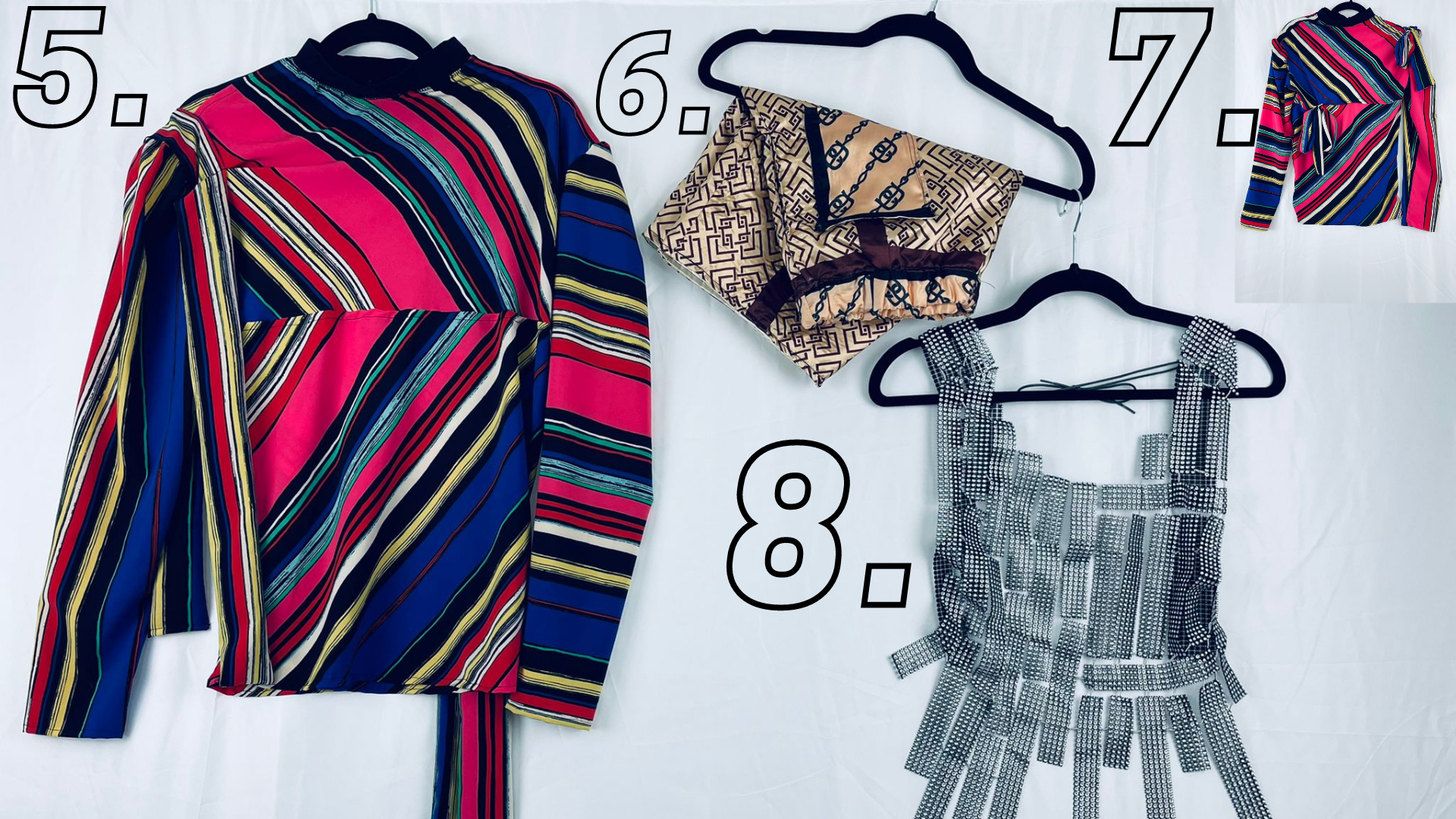 Prints and shine
More prints? Yes. And also textures and shiny stuff.
5. The striped long sleeves t-shirt. This is definitely something that I like in terms of design and that you will see in my brand. I could say that this is one of my favorite pieces I've made. However, the construction is beyond bad. You get that t-shirt inside out and the mess will make you scream. It was my second time picking fabric online and this time the fabric was even worst to work with that linen.
This fabric is practically plastic, something you will not see in my brand. You haven't seen this t-shirt on this blog before this time, so also check picture 7 were you can see the back of the shirt and how you can make bows or anything you want with the straps on the back and on the shoulder. Something you will probably see on my brand too, as well as the elastic almost turtle-neck. I have to say that I still love the print and how I played with it mixing it vertically, horizontally and on the bias in different directions; you will also see that In my brand. I need to find an eco-friendly alternative for this fabric, I need a print like this.
More lining
6. The golden -also lined- reversible shorts. This is an item that was recently featured in this blog. So check here the process how to make them and then, check here how to style them. Will you see golden shorts in my brand? Pretty possible. Reversible shorts? Even more possible.
8. The strass over-something top, vest or whatever. This is something you haven't seen and something you will pretty possibly never ever see on my brand. But I decided to add it, because it was the first thing I made when I decided to go for my dream. I didn't even get that ribbon for this, but that was the only thing I had on my hand when I started. Its supper crafty and I never really finished it. But now I kinda like it, even though I would not like to make it again. I am actually planing to wear it over a white shirt someday.
---
And those are all the clothes, for now.
In this process of how to start a fashion brand and now, exploring all the clothing I have been making, I have come to some conclusions and figured things out about the aesthetics of my brand. The most important one is that I like and I will use prints. Florals, stripes and aggressive/unexpected polka dots are things that you will see on my brand, mixed with plain colors as white, beige and pastels.
This brand will hopefully become a real thing someday.
Launch date for the first collection? No idea. Hopefully not after I am 40 years old. I am 33 now.
And now, do you have any opinion or recommendation?
XO.
Extra content: If you are also learning how to start a fashion brand, or if you simply want some ideas for sewing, upcycling or DIY projects, check this two Pinterest Boards with lots of ideas and inspiration for projects: